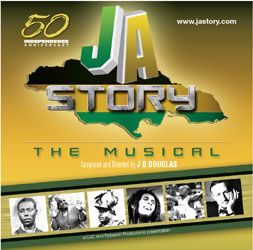 On August the 6th 2012 Jamaica celebrates fifty years of Independence.

It is also 50 years since Dr. No was released to movie houses the world over. For one man Count Prince Miller, the two events are milestones in his career, not only did he appear in the film Dr. No, he was also one of the local Jamaican artists chosen to perform before Princess Margaret when she represented the queen at the very first independence celebrations in Kingston back in 1962.

Prince Miller returns to the London stage as the Narrator in the highly recommended JA Story – The History of Jamaica Musical.

The musical tells the history of a people which started long before the arrival of Christopher Columbus right up to the present. Hence the list of historical characters pop up with zest belting out songs specially composed for this original musical.

The critically acclaimed musical returns to celebrate 50 years of Jamaica Independence and to salute the Jamaican athlete's ahead of their London Games appearance.

The list of characters portrayed include Bob Marley, Paul Bogle, Sam Sharpe, Nanny of the Maroons, Mary Seacole, Marcus Garvey and notable folk heroes. Also featured will be Ian Fleming who wrote all thirteen James Bond Novels at his home 'Goldeneye' in Jamaica, the Welsh born Captain Morgan who rose to become Governor of the Island and Her Majesty Queen Victoria.

The variety of musical styles and songs emanates from the many and various races of people who over the years have traveled to Jamaica to make the island their home. They include Iberian Jews, Syrians, Chinese, Indians, People from the African Continent and not forgetting those from the British mainland.

The many styles of music incorporated to tell the story include pop, r n b, gospel, mento, ska, rock steady, reggae and traditional musical theatre offerings.

JA Story is at the Stratford Circus Theatre on Saturday 23 and Sunday 24th of June at 7.30pm Box Office 0844 357 2625,

And at the Harrow Arts Centre for one night only Thursday 28th of June at 7.30pm, Box Office 020 8416 8989.
---
Related links