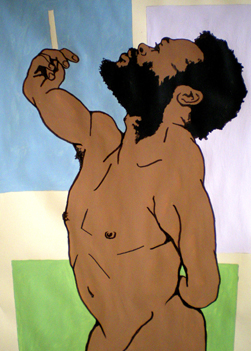 An Exploration of Masculinity, Femininity & The Male Body By Tonny A
Growing up in 70's Paris, a black boy born with no forearms (Thalidomide) and unsure of my sexuality, I was totally aware of difference. Constant external comments and internal feelings, most of the memory of this experience was lost through repression. It was Hell.'
Given this lost boyhood it is not surprising that the grown up Director/Dancer, Performer Tonny A should be producing this new double bill which look at defining and redefining masculinity, his previous work having already included examining constructs of the perfect male body. In AR-men, Director Tonny A as Mad Scientist attempts to create a new race beyond existing definitions.
Contemporary dancers Jean Magnard and Nicholas Smith, two similarly built young men, merge their very distinct moves to give birth to a creation which emerges being neither a clone of either nor a combination of the two, but a previously unknown creature.As these two 'lab-rats' scatter their seed, like Hansel and Gretel, trying to escape the genetically-modified maze, The Mad Scientist rubs his hands in glee.
Women in Me is Tonny A's attempt to understand how he can access the feminine within himself through dances lead by female singers' voices. Allowing his body to be danced by their voices rather than moving in choreographic ways along these women's songs, Tonny A undergoes a series of transformations as his personality fluctuates amid internal feelings of anger, sensuality and compassion found in the aggressive, seductive and introspective rhythms of the singers' music.