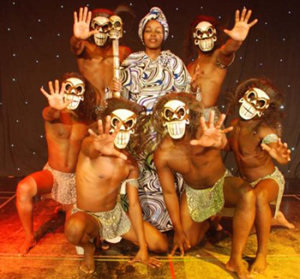 The island of Haiti may be familiar to most of us as a result of the turmoil caused by the hurricane in 2008 and the devastating earthquake earlier this year, but how many know of the turbulence brought about by the Haitian hero Toussaint L'Overture who realized a brief but triumphant moment of freedom for his enslaved people at the beginning of the 19th Century? He is the subject of 'Napoleon Noir', an exciting new play with music, which is to be launched at the LOST Theatre on May 19th for a three week run.

The date is 1801. Haiti is the jewel in the crown of the French empire, being militarily strategic and rich in mineral and agricultural resources. L'Ouverture has risen from slavery to become the ruler of his country, and has named himself Napoleon Noir. Outraged, Napoleon Bonaparte has dispatched a crack military force, charged with ousting the charismatic leader whilst L'Ouverture prepares for the struggle to maintain his people's liberation and dignity. It is against this background that the play finds its basis and substance.

The mixed cast is led by veteran actor Hayward Morse and features the unique contribution of 'The Mighty Zulu Nation' a group of energetic young people who lead the dance sequences choreographed by Iain Storey, and the pulsating ensemble songs based on African harmonies, composed by Duncan Walsh-Atkins. In the gentler scenes the audience will be charmed by the tender, haunting ballads written by the playwright.

Marcus Heath says 'This episode of history, like so many others, reminds us of our short comings and the terrible evils perpetrated by man against his brother for financial gain. Nevertheless Toussaint's legacy is apparent, if not in is own country, in the presidency of the most powerful country in the world just across the ocean.'

The play, which has been imaginatively directed by Hannah Kaye within settings designed by Bill Davis, includes spectacular lighting effects and even a touch of magic. It is surely destined to become the next big show in town. Catch it before everyone else does!
Time: Tuesday – Sunday 7.30 pm / Matinees Wednesday at 2.30
Address: Lost Theatre, 208 Wandsworth Rd, London SW8 2JU
Info: www.losttheatre.co.uk / www.thestagecompany.co.uk