The Mountaintop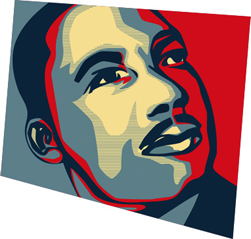 The night before his assassination Martin Luther King retires to room 306 in the now famous Lorraine Motel in Memphis after giving an acclaimed speech to a massive church congregation. When a mysterious young maid visits him, King is forced to confront his past and the future of his people.
David Harewood, recently seen in the Hollywood blockbuster Blood Diamond, plays King in a hauntingly inspiring portrait.
Introducing the brilliant young American playwright Katori Hall, who has just been announced as the 2009-10 recipient of the Playwrights of New York Fellowship, one of America's most significant new writing Awards.
The Mountaintop is at Theatre 509 from 9 June to 4 July with a gala performance on 17 June and Independence Day performance on 4 July.
Address: Theatre503, The Latchmere, 503 Battersea Park Road, London SW11 3BW
Box office: 020 7978 7040
Tickets: £13/ £8 conc