Freedom Project 2 -  Scratch Nights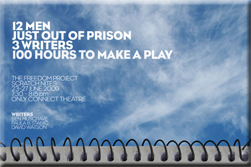 12 men just out of prison...
...working with director Maggie Norris and writers Paula B Stanic, Ben Musgrave and David Watson...
...to develop a short play about the lives they lead. This is theatre in the raw - honest, witty and fresh.
The Freedom Project is a new initiative from Only Connect, the arts company working with prisoners, ex-offenders and young people at risk of crime.
Actors on the Freedom Project were recruited in March and April 2009 as they approached release from HMP Pentonville. Untrained they are working with professional writers to develop a 45 minute performance about the lives they lead. Seating is unreserved and promenade.
The Freedom Project, Scratch Nights takes place at the Only Connect theatre from 23 - 27 June, 2009.
Address: Only Connect Theatre, 32 Cubitt Street, London WC1X 0LR
Tickets: £10 from 020 7609 1800