Poetry All Stars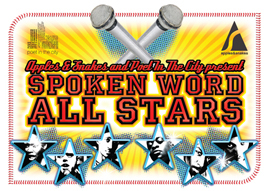 Take five poets and one musician, give them a stage and see what they do with it. Rip it up and replace it with wall-to-wall words and an unflagging backbeat, is what we're anticipating. Expect a seamless segue of poetry, improvised and otherwise, jousting with jazzy rhythms and forging a hip-hop-skip-and-jump of its very own. But who are these wonder-wordsmiths?
Well, there's Charlie Dark: silver-tongued showman with the charisma of a DJ and the energy of a dozen ordinary poets. Kat Francois: physically flamboyant teller of tales, part harrowing, part hilarious, always captivating. John Berkavitch: beatboxing, breakdancing badboy with a rising reputation in hip-hop theatre.
El Crisis: smooth-voiced king of incantations, be they to his Creator or to his car. Lucid: socially-sussed Mancunian lass to whom the stage is a second home.
But five onto one - isn't that unfair? Not when the musician is globally-acclaimed sax-player Jason Yarde, a man with a genre-transcending sense of invention; a man who's worked with everyone from Hugh Masekela to Jonzi D, and wins awards on an almost daily basis.
All stars? Yes indeed. The brave new face of spoken word? You bet. Poetry All Stars is on 15 June, 7pm at King's Place.
Address: King's Place, Hall one, 90 York Way, London, N1 9AG
Booking: 0844 264 0321
Tickets: £11.50 / £9.50