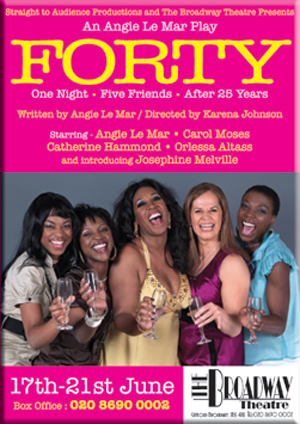 Forty is the reunion that Carol has been planning for a while. It has been her dream for many years to see some of her closest friends from school, to catch up with them and hear of their lives 25 years on. However, what starts out as a lovely celebration, reminiscing about old times, turns out to be far from what Carol expected.
Don't miss this funny, explosive, emotional roller coaster of an evening from Angie Le Mar, writer of THE BROTHERS and DO YOU KNOW WHERE YOUR DAUGHTER IS?
Forty is at the Broadway Theatre Catford from 17 to 21 June, 2009.
Tickets: Wed 17th all tickets £10/ Thurs 18th - Sun 21st tickets £16 -£18
Address: The Broadway Theatre, Catford Broadway, Catford SE6 4RU
Box office: 020 8690 0002 / online
---
Related links
Angie Le Mar is patron of Afridiziak Theatre News
Review of The Brothers
Review of Do You Know Where Your Daughter is?