Commercial Road by Mina Maisuria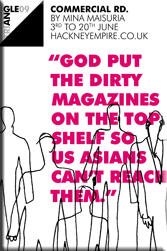 Commercial Road hilariously explores the struggles and fears of a group of dispossessed Asian petrol station workers in East London. Directed by Charlotte Gwinner.
Last year the recently formed Angle Theatre launched a new initiative, backed by a dedicated marketing campaign, which invited people from some of London's most deprived areas to write a play for the very first time. Sponsored by the internationally renowned design and marketing agency Pentagram, and supported by the Arts Council and private donors, the campaign material was translated into five different languages and targeted 50 international communities in East London.
A staggering seventy scripts were submitted in many different languages. A team of multi-lingual script readers, along with a panel of industry judges including Dawn Walton, Paul Miller and Indhu Rubasingham selected three scripts for performance. As part of their development each writer received tickets to the theatre, script advice, workshops and mentoring from established playwrights and directors.
Commercial Road is at Hackney Empire from 3 - 20 June, 7.30pm at Hackney Empire.
Address: Hackney Empire, 291 Mare Street, London E8
Box Office: 020 8985 2424
Tickets:  £12.50 Concs: £2 off, Friends: £3 off, CAN: £2.50 off