Adisa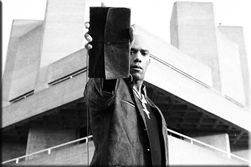 Performance poet Adisa, a favourite on the UK scene, presents a poetry and music show looking back at one of the most profound years of the 20th century. With the theme of revolution, he explores the voices and movements of 68, drawing inspiration from the folk, reggae, soul, Afrobeat and pop music of the time. Adisa examines the power of the collective voice and its effect on politics, religion, culture and artistic expression.
Born with a silver tongue and a head full of rhymes, Adisa exploded onto the spoken word scene in the summer of 1993, his mango flavoured metaphors and his larva-fuelled performances soon became legendary on the London performance poetry circuit. One year, after taking his show on the road, Adisa landed first place in a national competition titled, New Performance Poet of the Year. Since then, he has been Hackney Poet Laureate, and has also been published in anthologies including Poems Out Loud and Velocity.
Adisa is on a mission to take poetry to the people wherever he finds them; he has taken his word from continent to continent. Adisa delivers his work in a format known as Edutainment, he believes a good performance should be able to entertain the audience, but at the same time challenge the audience to look again and question what it is they hold to be true.
Adisa has delivered his work in many arenas from pubs to Buckingham palace, from primary schools to festivals. His performances are observations of life, through the eyes of an African griot born on a european shore; he takes the audience on a journey of reflection wrapped tightly in a blanket of humour. Dumping stereotypes in the trash harder than a NBA basketball star.
Adisa, 18 June at the artsdepot,  8pm
Address: artsdepot, 5 Nether Street, Tally Ho Corner, London N12 0GA
Box Office: 020 8369 5454
Tickets: £9 / £7 concessions