A Night to Remember (Bringing Sexy Back)
One Woman Show by Sandra Bee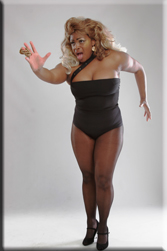 Sandra Bee, (BBC2 Petronella) star of the West End (Shenzi in Disney's Lion King) and Cinema (Derailed) Star launches the best ever version of her hugely popular one woman show, A Night to Remember (Bringing Sexy Back!) This unique production takes us on a musical, emotional but above all hilarious journey through the music of unsung songstresses from the 1920s to the present day.
A dynamic musical comedy drama about love, loyalty and insecurity.  Playing multiple roles, Sandra tells the story of two childhood friends who are put to the test as one realizes the other is living the life she should have had.
With the help of her highly popular characters such as Baby Monster,  Mr. Tearup (the sweet boy of Reggae) and his Irish Neighbor Mr. O'Tool.
Dazzling dance routines and special guest stars including Macy Gray, Tina Turner, Patti La Belle, Aretha, Beyonce and Rhianna!  Sandra tickles even the most reluctant of funny bones whilst proving that her versatile singing voice is no laughing matter.
There may also be a surprise performance by a male celebrity.
This roller coaster ride through musical history is told through the eyes of Sharlene Smith, who is being observed by her shrink, Dr Pink, on the reality show ''Living Lives'' (broadcast daily on Chanel 69).
Already a proven crowd pleaser, this new version of Sandra's show is even bigger and better. Uplifting music and great comedy are the keys to show business success in these credit crunch times.
Now thanks to the ever incredible Sandra Bee audiences have the chance to catch a show that combines the best of both.
Make a Beeline to see a powerful demonstration that a night spent with this dynamic performer is one no audience is ever likely to forget.
Visit www.misssandrabee.co.uk for clips of performances.