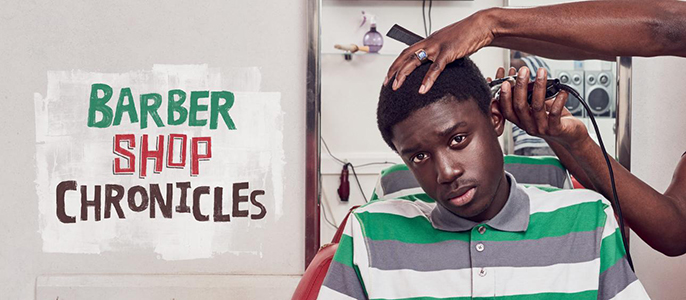 Barber Shop Chronicles return to London, two years after opening at the National Theatre. Back by popular demand, the production, spanning six cities over the course of one day, will be remounted specifically for the Roundhouse, London's most iconic in-the-round performance space.
Newsroom, political platform, local hot-spot, confession box, preacher-pulpit and football stadium - for generations, African men have gathered in barber shops to discuss the world.
These are places where the banter can be barbed and the truth is always telling.
Directed by Bijan Sheibani and designed by Rae Smith, Barber Shop Chronicles is a heart-warming, hilarious and insightful new play, that leaps from a barber shop in Peckham to Johannesburg, Harare, Kampala, Lagos, and Accra over the course of a single day.
Kate McGrath, Director of Fuel, and Inua Ellams met in 2008, after Kate saw what became Inua's first theatre show, The 14th Tale, at Battersea Arts Centre. Fuel helped Inua develop his debut play and produced it, premiering it at the Edinburgh Festival, winning a Fringe First, touring it in the UK and internationally and presenting it at the National Theatre. Since that first meeting, Fuel has worked closely with Inua, producing Untitled, Knight Watch, Long Song Goodbye, Black T-shirt Collection, The Spalding Suite (read our interview with Inua Ellams), An Evening with an Immigrant, and now Barber Shop Chronicles (read our review) together with the National Theatre and Leeds Playhouse. Fuel is also co-produced Inua's Half-God of Rainfall with Kiln Theatre in association with Birmingham Rep, which opened in April 2019, and Inua's Three Sisters, a National Theatre and Fuel co-production, which will open in autumn 2019.
Kate McGrath said: "We are hugely proud of this joyous and soulful production. Having now played 195 performances across the globe, it is incredible to see audiences' continually growing appetite for Inua's important and life-affirming play. Barber Shop Chronicles' two runs at the National Theatre in 2017 saw Fuel and the NT build young and diverse audiences, giving the auditorium a palpable buzz. We're thrilled to be moving to the Roundhouse, another trailblazing London venue, and can't wait to welcome more audiences to experience this special production."