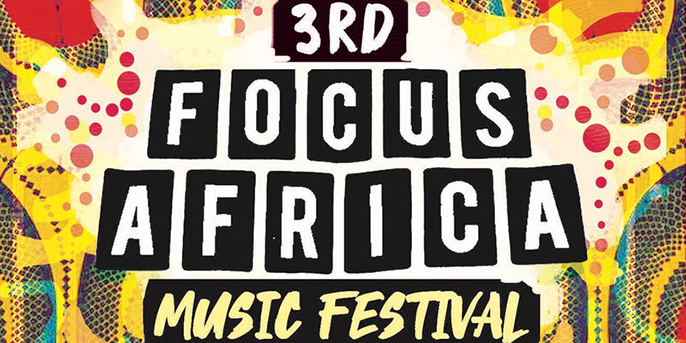 Focus Africa Music Festival is a brand new multicultural musical showcase in the heart of London, at Rich Mix, east London's No1 independent arts venue.
Expect the Best Music that the African continent could offer. 40+ artists, DJs, Live Music, Traders, Food from Ghana - Nigeria - Gambia - Burkina Faso - Senegal, UK and more...
*Koroleko Moussa Dembele : Free drum and Balafon workshop from Burkina Faso | 5pm - 6.30pm | Book your free place sending your names to attak@focusorganization.com.
Live: 7pm - 5am
*Femi and The InRhythms Femi Sofela (Afrobeat / Afro-Funk / Afro-Jazz)
Femi and The InRhythms, a 7-piece band from Lagos and London, mixes the cerebral musicality of afrobeat with the visceral grooves of funk underpinned with Yoruba-English vocals styles to create an eclectic futuristic world dance music making them one of the key bands from the contemporary African music scene.
Femi and The InRhythms was formed by bassist Femi Sofela to put the heavy afrobeat into funk and jazz, music with which he built his reputation as a musician and producer. The band released their debut CD/LP "Pressure To Pleasure" on Joyful Noise Records in January 2018.
* The West African HIghlife Collective - Ikenga - (Afrobeat / HighLife) The West African Highlife
Collective (formerly known as Ikenga) - a multi-ethnic, multi-racial group with roots in the urban sounds of West Africa. The West African HIghlife Collective is a gathering of some of Africa's finest instrumentalists, with a personnel list, featuring veterans of some of Africa's greatest bands such as Fela Kuti's Egypt 80, Zaiko Langa Langa, Victor Olaiya's All Stars, Osibisa, Tony Allen and many more.
*Djs Playing the best of #Afrobeat #Azonto #Kuduro #CoupeDecale#Afrohouse etc... DJ Snuff | DJ Soulprovyder | T-Roy Broadcite
NEED TO KNOW: THE 3RD FOCUS AFRICA MUSIC FESTIVAL | SATURDAY 27 JULY 2019 | RICH MIX, LONDON | 7PM to 5AM | £12.50 Advance - £15.50 On the door | BOOK TICKETS | www.focusorganization.com #FocusAfrica