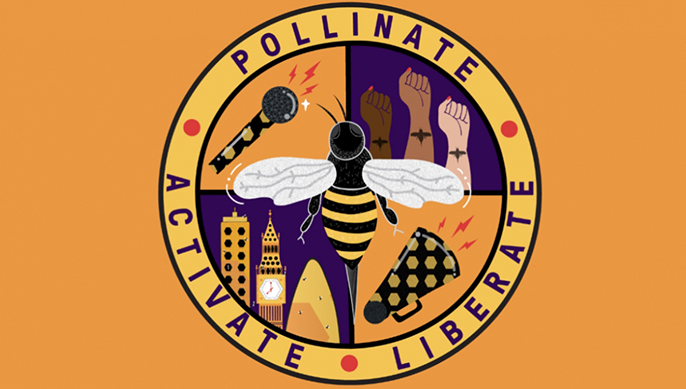 Nine sensational female performers of colour, selected from over 250 applications, are announced to create Hive City Legacy, a unique new show all about the world's greatest hive city – London.
Developed by Busty Beatz and Lisa Fa'alafi of Hot Brown Honey, Yami 'Rowdy' Lofvenberg and the company
To tell the stories of the unseen and the unheard in a riotous, high-octane performance, Hot Brown Honey's Busty Beatz and Lisa Fa'alafi have teamed up with the Roundhouse and hip hop artist Yami 'Rowdy' Lofvenberg to scour London and bring together an extraordinary new league of femmes of colour. With over 250 applications for the paid opportunity from young artists with skills ranging across circus, beatboxing, spoken word, cabaret, dance and everything in between, Hive City Legacy brings intersecting tales from a new London Town to the Roundhouse stage. This unapologetic, uncensored and genre defying experience brings together performance and social activism to challenge, uplift, boundary break and celebrate.
Make way for the Matriarchy.
The cast are:
Afro Polynesian artist from New Zealand Shakaiah Perez - a dancer, choreographer, photographer, videographer, writer and creative
Elsabet Yonas, a movement artist who creates, performs and teaches dance
Born and bred North West Londoner Koko Brown, a theatre-maker & spoken word artist, who uses her loop station as an additional limb.
Dorcas Ayeni-Stevens is an actress and a writer who has previously worked with Talawa Theatre and the Young Vic Theatre
Farrell Cox is physical theatre actress and aerialist who has studies Dell Arte and Clown internationally. Her pervious credits include London 2012 Olympic ceremonies and You Me Bum Bum Train
Krystal Dockery is an actress, and 'Bunni Morretto' is her burlesque counterpart. An expert in twerking, Bunni blends film mash ups, burlesque and twerk with flawless comic timing – she also teaches Twerkshops
Rebecca Solomon is a circus performer who loves being upside down
And classically trained Aminita Francis most recently appeared in Suffregeddon for The Guilty Feminist and the acclaimed Frankenstein — How to make a Monster at BAC
South London singer-songwriter and street performer Sherika Sherard has opened for British soul singer Seal on his world tour and also had her music chosen by Spike Lee to feature on his Netflix Series "She's Gotta Have it".
Hot Brown Honey are a fierce collective of Femmes of Colour from Australia. Hot Brown Honey is headed into its third year at the Edinburgh Festival Fringe after becoming a breakout, sell-out smash in 2016. The company are in the midst of a world pollination tour smashing stereotypes in Canada, Manchester and at home in Australia. As creators of the show and leaders of the fierce HBH ensemble, Busty Beatz is Musical Director and Queen Bee, and Lisa Fa'alafi is director, designer, choreographer and performer.
Info: HIVE CITY LEGACY is at the Roundhouse from 10 to 21 July 2018 | Book tickets