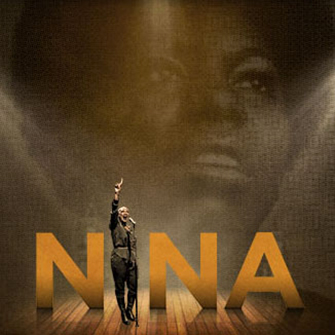 A Unity Theatre and Riksteatern co-production with Young Vic  
Josette Bushell-Mingo's powerful connection to legendary artist and activist Nina Simone, performed with a live band. 
A searing and soulful theatre piece inspired by the life and music of Nina Simone. Taking in the singer's political acts as part of the Civil Rights Movement in 1960s America as well as the struggles in her personal life, Josette Bushell-Mingo finds a parallel with the persisting inequality in today's society, and questions how far we've really come. 
Versions of some of Nina Simone's best-loved songs combine with a clear provocation in a production directed by Dritëro Kasapi, with dramaturgy by Christina Anderson. Design and costume is by Rosa Maggiora, musical direc-tion by Shapor Bastansiar, light by Matt Haskins and video by Dritëro Kasapi. 
Originally performed at the Unity Theatre, Liverpool in 2016, Nina – a story about me and Nina Simone is on tour in Sweden until 18 March ahead of its London premiere at the Young Vic. 
Josette Bushell-Mingo OBE is a Swedish-based English theatre actress and director. She was nominated for an Olivier Award in 2000 for Best Actress in a Musical for her role as Rafiki in the London production of The Lion King. In 2001, she founded a black-led arts festival called PUSH at the Young Vic. Her credits at the Young Vic include: Simply Heavenly (as a director, also West End) and The Iron Man. Her other directing credits include: Glo (The Volcano Theatre, Canada), When We Dead Awaken (The Vasterbottensteatean, Sweden, Unity Theatre, Liverpool), The Ghost Sonata (The People Show) and The Penelopiad (RSC). Her acting credits for theatre include: Antony and Cleopatra (Royal Exchange, Manchester), Vagina Monologues (New Ambassadors Theatre) and The Creation, Death & Knowledge In Everyman, Virtuoso, The Two Gentlemen of Verona (RSC). For television, her credits include: Blood River. Her film credits include: Blood In Their Eyes. 
Dritëro Kasapi is a theatre director based in Stockholm, Sweden. He was educated at the Faculty of Dramatic Arts in Skopje, Macedonia, where he originates from and where he started his career. Dritëro's work has been performed internationally at many festivals including Wiener Festwochen, Bonn Biennale and Festival d'Avignon. He was an artistic leader of the CTC, a producing theatre and education centre in Skopje, Macedonia, from 1999-2005, Artistic Director of Gottsunda Dance and Theatre in Uppsala Sweden from 2005-2008 and is currently Deputy Artistic Director of Kulturhuset Stadsteatern in Stockholm. His recent credits include: Hamlet, Enron, An Enemy of the People and Lampedusa. 
Nina – a story about me and Nina Simone performed by Josette Bushell-Mingo and directed by Dritëro Kasapi runs 19 – 29 July 2017 in the Young Vic's Maria studio. Dramaturgy is by Christina Anderson, design and costume by Rosa Maggiora, musical direction by Shapor Bastansiar, light by Matt Haskins and video by Dritëro Kasapi.