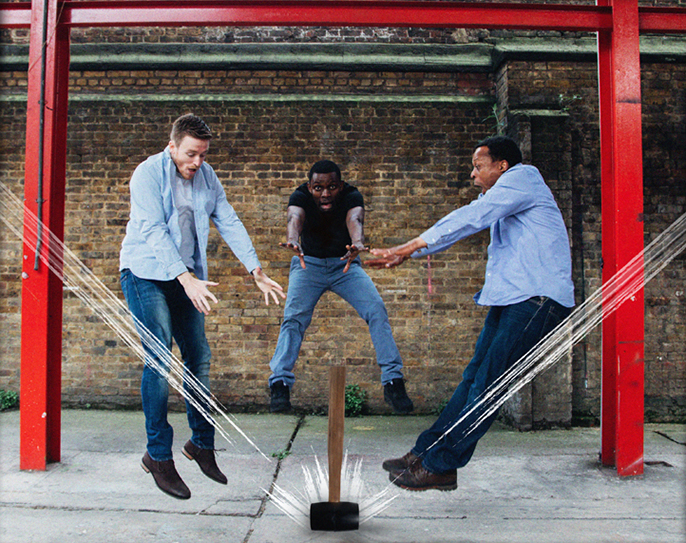 "He's black, you're black, you speak the same language and you fight each other like animals"
This July, Tangle presents Cont Mhlanga's Workshop Negative, 'the most talked about play ever written and performed in Zimbabwe (BBC World Service, 2002).' A response to the backlash of Zimbabwean independence, it received popular and critical acclaim during its original Zimbabwean national tour and engrossed the nation. It was banned in 1986 by Mugabe's government and everyone involved in the production was intimidated. Mhlanga was arrested, detained and interrogated, and narrowly escaped having the fingers on his writing hand amputated as punishment. It subsequently went on to receive international recognition yet this is the first time it will be performed in England.
Set in 1984, a time of endemic corruption and racial tension, three characters represent society in microcosm and embody issues Zimbabweans were too afraid to discuss openly. Two workers, one black and one white and enemies during the recent civil war, are employed in the tool making workshop of an apparently socialist MP. But is it the MP, mouthing socialism while practising the most oppressive capitalism that is Zimbabwe's real enemy?
The cast of Jude Akuwudike (Moon on a Rainbow Shawl, National Theatre), Danilo Antonelli (My Fair Lady, Pretoria State Theatre) and John Pfumojena (I am Thomas, National Theatre of Scotland) bring total physical commitment to Anna Coombs' high-energy production.
Anna Coombs, artistic director of Tangle said: 'The controversial banning of Workshop Negative was a fundamental challenge to free speech with frightening implications for artists' freedom of expression. When Cont and I first started discussing a revival of the play for UK audiences the personal impact became clear. Cont is still under scrutiny by the government in Zimbabwe. We are all incredibly excited to be bringing the play and his work to London for the first time, during a period when it is extraordinarily politically and socially resonant.'
Info: Workshop Negative is at Gate Theatre, 11 Pembridge Road, Notting Hill, London W11 3HQ from 6 to 9 July 2016, 7.30pm and 3pm, 9 July / book tickets