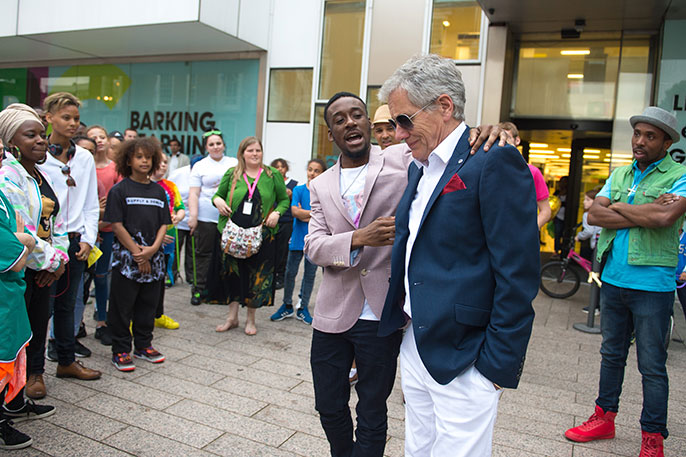 This year commemorates the 400th anniversary of Shakespeare's death and to mark this auspicious occasion Studio 3 Arts will present an exciting promenade outdoor production of The Merchant of Venice from Tuesday 5 – Sunday 10 July around Barking Town Centre's key landmarks. Press are invited to the performances on Tuesday 5 or Wednesday 6 July at 7.45pm performance.
Based in Barking, Studio 3 Arts is at the forefront of social engagement in the arts. Studio 3 Arts' Artistic Director Liza Vallance said 'we have been exploring this play in the context of Barking and Dagenham for several years. It is an area with real diversity with over 100 languages spoken in schools, incredible artistic ambition and community activism, this production gives us a chance to explore race, religion, economics and enterprise'
This adaptation explores a celebrity-driven, internet world full of selfies and hashtags, which sees a wealthy heiress looking for a husband. Back on the streets of Barking, a rich merchant is looking for a loan. Everyone is out to make it for themselves; but everything comes at a price. Relocated to Barking in an adaptation by local writer Ashley Joseph, Studio 3 Arts presents a professional cast of actors alongside a team of community performers from across the Borough. This promises to be Shakespeare as never seen before.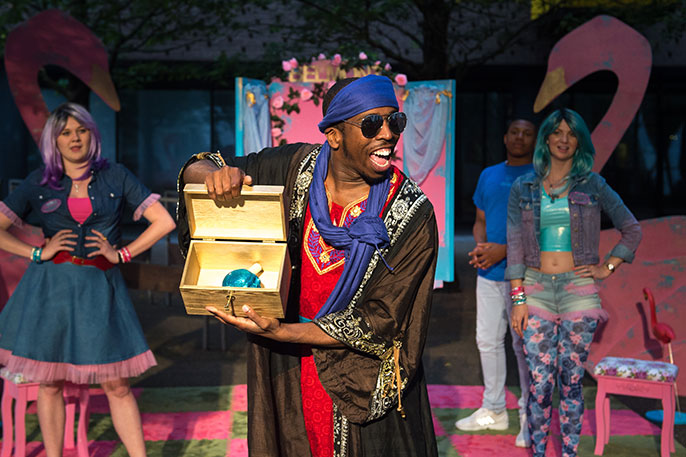 Shylock is played by Marc Bannerman EastEnder's, I'm a Celebrity Get Me Out of Here; Portia is played by Lucy Dixon Hollyoak's, Waterloo Road, Scott & Bailey; Antonio is played by Michael Bertenshaw The Crown, Eastender's, Doctors and Panto regular at Theatre Royal Stratford East; Lorenzo/Prince of Morocco is performed by Kiell Smith-Bynoe Whitechapel, Diary of a Bad Man, Krish & Lee; Erica Jeffrey plays Jessica, her past work includes The War Party at Fulham Palace, Flood at National Youth Theatre and A Moment at the Barbican; Launcelot Gobbo is played by William Frazer and Nerissa is performed by Sydney Aldridge, both are Barking residence. And recent graduate Razak Osman plays Gratiano.
The creative team comprises writer Ashley Joseph from MTV Base, Eastenders, Acting Up and 5's a crowd; composer/songwriter Linton Bennett, who has worked with Dido, All Saints, Jamelia, Sonique, Boyz to Men and Paul Young and movement director Botis Seva from Far From The Norm Dance Company. The production will be directed by Angela Michael's co-founder of Tell Tarra. She has directed extensively at Oval House, Royal Court and The Albany, Deptford. She is also associate director at Half Moon Theatre.
Info: The Merchants of Venice is at Broadway Barking, Broadway, IG11 7LS from 5 to 10 July, 7.45pm, Saturday 3pm & 7.45pm Sunday 3pm. Tickets are £5, £10. To book call: 020 8507 5607 | movbarking.co.uk | www.studio3arts.org.uk #MOVBARKING