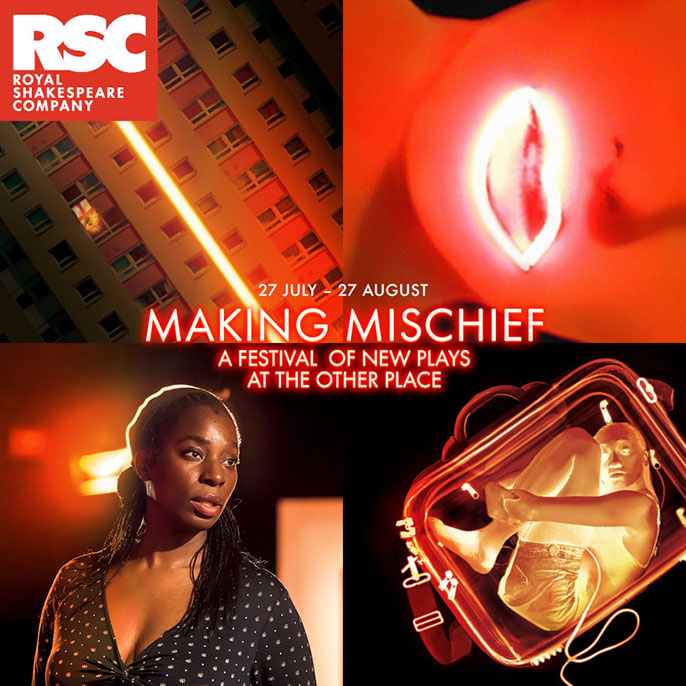 'What is unsayable in the 21st century?'
Over the course of these four plays our writers respond to this challenge with daring explorations of language, race, gender and life in Britain today. Join us in our intimate new theatre space at The Other Place and confront your own assumption about what is taboo in the times we live in.
Take advantage of our festival multi-buy ticket offers and continue the conversation in Susie's Cafe Bar, at our programme of talks and debates, and online using #RSCMischief
Always Orange by Fraser Grace
'Raise the Flag. Raze the city.'
In the aftermath of terrorist attacks, the population is on edge. Empathy and community have been blown away by the storm of terror and replaced by fear. A survivor of the first attack, Joe is convinced that he has found the key to turning the tide of destruction and restoring tolerance and understanding. But the city is in no mood to listen…
Following the award-winning Breakfast with Mugabe and TMA-nominated The Lifesavers, writer Fraser Grace presents a tragicomic exploration of how to be human in a world always on edge.
Revolt. She said. Revolt again. by Alice Birch
You are expected to behave…
Use the right words.
Act appropriately.
Don't break the rules.
Just behave.
This play is not well behaved.
Alice Birch's play examines the language, behaviour and forces that shape women in the 21st century and asks what's stopping us from doing something truly radical to change them.
Please note: this production contains strong language and scenes of a sexual nature.
Fall of the Kingdom, Rise of the Foot Soldier by Somalia Seaton | Read interview
'This is our England.'
In a country where protectionism masquerades as patriotism, a new national identity is being forged. Nostalgic notions of Englishness fracture as the rallying cries of a new generation are heard on the streets. In London, an attack on a student forces her teacher to confront the uncomfortable truth lurking beneath the veneer of community cohesion.
In this provocative new play, Somalia Seaton peels away the privileged ignorance of middle-class tolerance to expose the deep wound of cultural tension cutting through modern England.
Joanne by Deborah Bruce, Theresa Ikoko, Laura Lomas, Chino Odimba and Ursula Rani Sarma
Five of the most exciting voices in theatre explore the pressures on our public services as one woman buckles under pressures of her own.
Commissioned and produced by Clean Break and directed by Róisín McBrinn, this one woman show is performed by Olivier Award-nominated Tanya Moodie, currently playing Gertrude in Hamlet in the Royal Shakespeare Theatre.