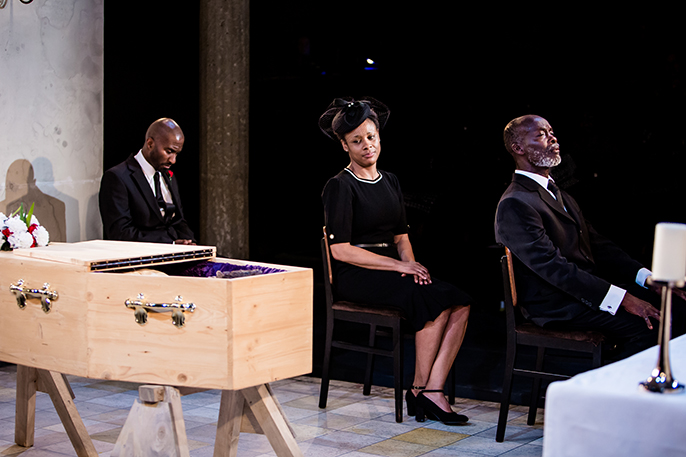 In the heat of the Caribbean sun and to the familiar sound of gospel hymns, the Gillard family prepares for the funeral of their mother Grace. Tensions ignite as Josh, cast out for being gay, arrives in Barbados after 6 years of excommunication. Widowed Eli wants to sell the family home on Perseverance Drive, but Grace's will reveals a different plan.
London, 4 years later. The table is set with Tiger Malt, lashings of Madeira cake and chocolate digestives (milk, not dark). Secrets are exposed at this last family gathering but Eli knows time is running out: Can the Gillard family reconcile their faith in God with their faith in one another?
I know we have a certain amount of dirty laundry in this family, but is it really necessary to keep on washing it so publicly?
Exploring the joys and frustrations of loving our loved ones, Perseverance Drive tells an epic family story that stretches from the sunny shores of Barbados to the grey skies of Leytonstone. Don't miss this witty and uplifting new play by acclaimed writer and actor Robin Soans (Talking to Terrorists, Out of Joint / Royal Court, Life After Scandal, Hampstead Theatre), directed by Madani Younis, Artistic Director of the Bush Theatre.
Info: Perseverance Drive it the Bush Theatre until August 16, 2014 / book tickets
£10 TICKET OFFER Valid on full price, adult tickets for all performances up to and including 16th August - quote 'AF10' when booking. Limited to two tickets per person. Terms and conditions apply. Offer is subject to availability. BOOK NOW ONLINE or call the box office on 020 8743 5050.
Related links
Clint Dyer - interview
Perseverance Drive - review
Perseverance Drive by Robin Soans | Trailer
Perseverance Drive by Robin Soans | Trailer - courtesy of YouTube.com