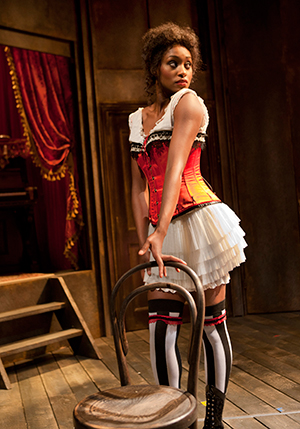 The play, directed by Laurence Boswell, is set in 1905 in New York City where Esther, a black seamstress, sews exquisite lingerie for clients who range from wealthy white patrons to prostitutes. She has saved enough to allow her to dream of one day opening a beauty salon for black women, and at 35 years old, longs for a husband and a future. When she begins to receive beautiful letters from a lonesome Caribbean man who is working on the Panama Canal, it looks like life may be about to take a different course.
Lynn Nottage won the 2009 Pulitzer Prize for her play Ruined and in 2010 she was awarded the Distinguished Playwright Award. Her other plays include By the Way, Meet Vera Stark, Fabulation, or the Re-Education of Undine (OBIE Award), POOF!, Las Meninas, Por'Knockers, Mud, River, Stone, and Crumbs from the Table of Joy.
The cast includes Tanya Moodie as Esther, who most recently appeared opposite Lenny Henry in the much acclaimed Fences on tour and in the West End; Chu Omambala as George (The Nine O'clock Slot for Ice and Fire and King Lear at Chichester Theatre Festival); Ilan Goodman as Mr Marks (Shiver, Watford Palace Theatre; Paper Dolls, Tricycle Theatre; Red Light Winter, Theatre Royal Bath Ustinov Studio); Sara Topham as Mrs Van Buren (The Importance Of Being Earnest, Roundabout Theatre Company, New York; Laurence Boswell's Fuente Ovejuna); Dawn Hope as Mrs Dickson (The Scottsboro Boys, The Young Vic; Alison Soames in Coronation Street); and Rochelle Neil who will play Mayme (Chicago and Fantastic Mr. Fox, Regents Park Open Air Theatre).
Info: Intimate Apparel is at the Park Theatre, Clifton Terrace, Finsbury Park, London, N4 3JP from 2 to 27 July 2014 | book tickets