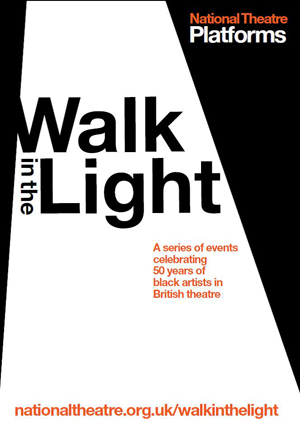 The National Theatre honours the contribution that black artists have made to British theatre over the past 50 years in a week of Platform talks, led by actor Giles Terera.
Mon 15 July
Part 1: In the Wings... 1960-1980
In the early days of the 20th century roles for black actors were conspicuously limited, until the 60s brought the emergence of alternative and groundbreaking voices.


The 70s saw Arts Council subsidy for Temba Theatre during an era of strange racial TV sitcoms, black theatre writing began to flourish with work by Mustapha Matura and Wole Soyinka, while the West End saw bizarre incongruities such as Norman Beaton as Nanki Poo in The Black Mikado.


In Conversation with Mona Hammond and Jeffrey Kissoon
3pm (1hr), £4/£3
In Discussion with Yvonne Brewster, Oscar James and Mustapha Matura
5.45pm (45mins), £4/£3
Thu 18 July
Part 2: Onto the Stage... 1980-2000
Black playwrights and actors started taking more prominent places in the theatre. 1981 saw an all-black Measure for Measure at the NT and The Playboy of the West Indies stormed into the Tricycle in 1983. Yvonne Brewster formed Talawa in 1986 and the colour-blind/colour-conscious casting debate heated up around Clive Rowe's Mr Snow in Carousel. In 2000, David Oyleowo's gentle Henry VI was RSC's first black Shakespearean king.


In Conversation with David Harewood and Gary Wilmot
3pm (1hr), £4/£3
In Discussion with Bonnie Greer, Winsome Pinnock, Hugh Quarshie and Paulette Randall
6pm (45mins), £4/£3
Fri 19 July
Part 3: Into the Spotlight... 2000-2013
The turn of the century and prominent playwrights included Inua Ellams, Kwame Kwei-Armah, debbie tucker green and Roy Williams. Adrian Lester's Hamlet visited from Paris, Clive Rowe's panto dame became an annual treat at the Hackney Empire, and Chiwetel Ejiofor played Trigorin in The Seagull at the Royal Court. Meanwhile a slow exodus took many black actors to America, lured by serious leading roles in Hollywood.


In Conversation with Nikki Amuka-Bird and Clive Rowe
3pm (1hr), £4/£3
In Discussion with Nicholas Hytner, Kwame Kwei-Armah and Tanya Moodie
6pm (45mins), £4/£3
Sun 21 July
Part 4: Centre Stage… a Celebration
1pm (90mins), £10/£8
Walk in the Light Pt 4: Centre Stage a Celebration
A unique performance capturing the 50-year journey of black theatre, through the words, music and people at the heart of this story.
With guests Jimmy Akingbola, Adjoa Andoh, Tobi Bakare, Rikki Beadle-Blair, Chipo Chung, Sharon D Clarke, Peter de Jersey, Noma Dumezweni, Clint Dyer, Carys Eleri, O-T Fagbenle, Wendy Gadian, David Harewood, Lenny Henry, Kobna Holdbrook-Smith, Clement Ishmael, Marianne Jean-Baptiste, Jenny Jules, Trevor Laird, Alex Lanipekun, Tunji Lucas, Nathaniel Martello-White, Melanie Marshall, Paul J Medford, Tanya Moodie, Ruth Negga, Cyril Nri, Ashley Rolfe, Clive Rowe, Giles Terera and Ony Uhiara.
With readings from plays by Bola Agbaje, Rikki Beadle-Blair, Alfred Fagon, Kwame Kwei-Armah, Nathaniel Martello-White, Mustapha Matura, Nigel D Moffatt, Courttia Newland, Richard Norton-Taylor, DeObia Oparei, Caryl Phillips, Winsome Pinnock, and Roy Williams.
And the Walk in the Light Mass Choir, led by Nathaniel Morrison.
Info: Walk in the Light is at the National Theatre, South Bank, London SE1 9PX from 15 - 21 July 2013 | View full programme and flyer | Tel: 020 7452 3400 | Book now | Nearest tube: Waterloo