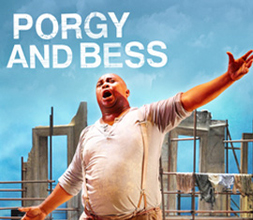 George Gershwin, DuBose and Dorothy Heyward and Ira Gershwin

London Stage Premiere of Cape Town Opera's production
Performed by Cape Town Opera
Presented by Askonas Holt and Raymond Gubbay

To mark 75 years since George Gershwin's tragically early death, Cape Town Opera performs this exuberantly colourful staging of the great American songwriter's immortal 'folk opera' Porgy and Bess.

A jazzy fusion of classical opera and Broadway musical, boasting some of the most unforgettable melodies in the song repertoire – including 'Summertime' and 'It Ain't Necessarily So' – Porgy and Bess is not only America's greatest opera but the only opera fully to embrace the African-American experience.

Originally set among the teeming black community of Catfish Row, a run-down tenement in 1920s South Carolina, the opera tells of the crippled beggar Porgy's desperate attempts to rescue the beautiful Bess from her twin dependency upon her violent lover Crown and the sleazy dope-dealer Sportin' Life.

Created to celebrate Cape Town Opera's 10th anniversary in 2009, this vibrantly physical production brilliantly highlights the work's universal and enduring message by shifting the action to apartheid-era Soweto.
---