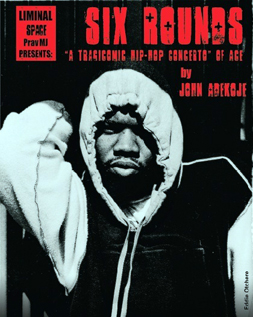 Liminal Space presents the European premiere of Six Rounds by award winning African- American playwright John ADEkoje and is directed by Prav MJ. Six Rounds is a no-holds-barred exploration of identity, and mortality on the streets of New York.

In a metaphysical boxing ring, we experience the story of Ace, a black youth of 'sculpted body and mind' who makes tough decisions that have far reaching consequences. Ace seeks the truth as a hip-hop DJ cuts and scratches to the beat of his life. John ADEkoje's self described "tragicomic hip-hop concerto" weaves an unconventional tale of morals, love and the realities of the streets.
Benefit nights include:
June 7th
Brook Benefit Night | www.brook.org.uk
Brook is the country's largest young people's sexual health charity. For over 45 years, we have been providing sexual health services, support and advice to young people under the age of 25. Harriet Gill, CEO of Brook will be attending that night.

June 9th
Christchurch Earthquake Benefit Night
Six Rounds leading actress Catriona Toop, who plays Amy, is from Christchurch, and has been personally affected by the recent earthquakes in the area. Catriona, as well as the production team feel passionate for the people of Christchurch, and would like to offer their support in contributing to the aid for providing relief to the destruction caused in the area.

June 10th
Art Saves Lives | www.artsaveslives.co.uk
Founded by Dean Stalham in 2009 who discovered that 'art saved his life" while in HMP Wandsworth. Liminal Space are supporting ART SAVES LIVES to raise funds to build a much needed community theatre and arts space in one of London's most socially deprived areas -New Cross.

June 14th 2011
Terence Higgins Trust Benefit Night | www.tht.org.uk
Terrence Higgins Trust is the leading and largest HIV and sexual health charity in the UK. CEO of the charity Michael Brady will be attending. June 14th will be dedicated to THT cause and the great work they carry out in the UK.



---
Info: Lost Theatre, 208 Wandsworth Road, London, SW8 2JU | www.losttheatre.co.uk