Best Kept Secret in association with the The Media Team and the Cochrane Theatre Tuggstar for President: Seize the Time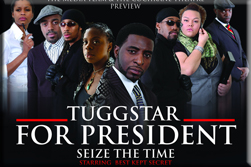 Close your eyes and imagine a genuine political candidate that answered the needs of a community, a people yearning for change. A group of people that have been continually let down by the political process.
What will he have to address?
What will he have to say?
How will he tackle the problems of the communities?
This highly charged theatre production combines spoken word, drama and politics in a never before seen presentation of some of London's premier performers. Other than B.K.S, comprising of TuggS.T.A.R, OneNess, AmeN NoiR & ShakaRa; the production also includes the beautiful passionate poet - FLOetic Lara, the all-powerful mighty Mosaique, the multi talented & truly gifted Mark Anderson & the awesome artistry prowess of Tedecia Wint.
Tuggstar for President takes place at the Cochrane Theatre from 10 to 11 July, 2009 at 7pm.
Address: Cochrane Theatre, Southampton Row, Holborn, WC1B 4AP
Tickets: 020 7269 1606