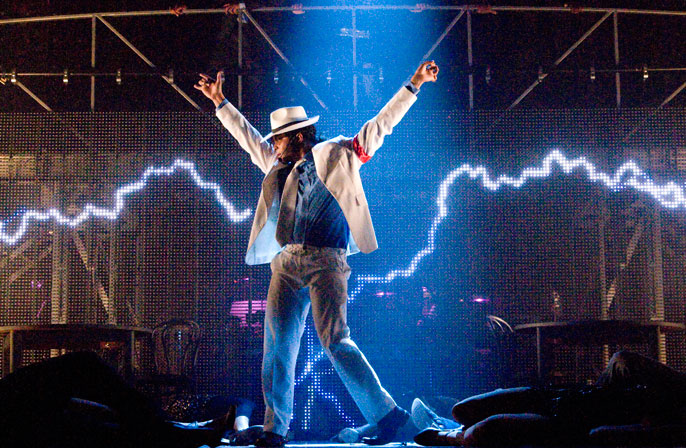 Thriller - Live, the spectacular concert show that celebrates the music of the world's greatest entertainer and undisputed King of Pop, Michael and the Jackson 5, is celebrating its 2,000th West End performance on Thursday October 24.
Smashing all previous records at the Lyric Theatre, where it recently celebrated becoming the longest-running production in the theatre's 125-year history, Thriller - Live first moonwalked into the West End in January 2009 after three acclaimed UK tours. It has just extended its West End booking period to Sunday 28 September, 2014
Several world tours have seen the show play to acclaim in 26 countries, including Germany, Italy, Poland, Denmark, Holland, Belgium, Switzerland, France, Singapore, South Africa, China, Sweden, Finland and Norway, Japan and Brazil.
More than 1 million people have seen the show at the Lyric Theatre and more than 2.5million people have seen the show worldwide.
Unlike other West End productions, Thriller - Live is not a rigid book musical with set songs, but is a constantly evolving music concert celebration. When Michael Jackson died, the Lyric theatre became a focus for fans from all over the world, who created a massive shrine of flowers, candles, and tributes. More than 40 books of condolence were signed in the foyer then sent to the Jackson family. A year after his death, a permanent West End memorial to Michael was unveiled in the theatre foyer. Thriller - Live brings to life on stage the distinctive high-energy dancing and pulsating sound of many of pop's greatest hits, blending eye-popping video footage and effects together with dazzling choreography by the show's award-winning director Gary Lloyd. The show has regularly been updated with additional songs, new visuals and choreography. Thriller - Live was originally conceived and created by Adrian Grant, a long time associate of Michael Jackson, and author of Michael Jackson – The Visual Documentary. Thriller - Live is produced by Paul Walden and Derek Nicol for Flying Music in association with Adrian Grant for Key Concerts.
Info: Thriller Live is at Lyric Theatre, Shaftesbury Avenue London W1D 7ES Until September 16, 2015. Book now
Related Links
Thriller Live - review, Feb 2013
Thriller Live launches academy to train young Michael Jackson performers
Thriller - Live sells 1,000,000 tickets and celebrates starting its 5th year in the West End