The Mountaintop by Katori Hall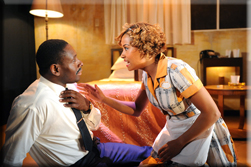 Starring David Harewood and Lorraine Burroughs
Directed by James Dacre
Following its critically acclaimed, sold-out run at Theatre503, Katori Hall's stunning two-hander transfers to Trafalgar Studios for seven weeks only.
The Mountaintop stars David Harewood (Blood Diamond, Robin Hood) as Martin Luther King in a thrilling portrait that makes a man of the legend - exhausted, lonely and wracked by fears for the civil rights movement which will be his historic legacy.
The night before his assassination Martin Luther King retires to room 306 in Memphis's now famous Lorraine Motel having given a monumental speech in front of thousands. When he calls room service for a cup of coffee, he gets much more than he expects from the young maid who delivers it.
The Mountaintop is at the Trafalgar Studios from 16 July to 5 September, 2009, 8pm with Thursday and Saturday matinees at 2.30pm.
Address: Trafalgar Studios, Whitehall, London SW1A 2DY
Box office: 0870 060 6632
Tickets: £39.50 £35.00 £25.00 / Boxes £20.00 Onstage/Standby £15.00 / 
Preview prices: Top 2 prices reduced to £25.00
Groups 8+ best available £25.00