Chun Yi: The Legend of Kung Fu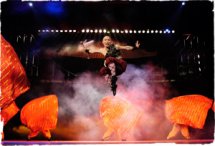 Chun Yi is a radical departure from previous, more ascetically staged presentations of this potent, ancient art.  It's a full-blown theatrical homage to Kung Fu, with production values which rival the most glittering of orthodox West End offerings.   In terms of setting, lighting and sound, Chun Yi offers a multi-layered assault on the senses which equals the assault on credulity of the performers' Kung Fu skills.  Stunning music by award-winning composer Zheng Bing underscores the drama.
The moving story at the heart of the show is told (in English) by an ancient kung fu master to a young boy, fearful of the disciplined life of kung fu practice.  The audience joins in this journey of enlightenment, choreographed in a rare fusion of traditional eastern movement, western ballet, modern dance, and acrobatics.  It's all interwoven with a succession of extraordinary, barely believable feats of martial arts.
In this visually intense production, scenes dissolve and fade into rippling silks, performers drift high above the stage, and tumbling actors are seemingly swallowed into pits of fire as the cast gathers ranked on raised gantries to create a meticulously synchronised kaleidoscope of moving images.  It's not just said for the sake of the alliteration: Chun Yi is magical, dynamic, mystical and amazing.
In Beijing, the show has played to packed houses and to audiences of all ages and backgrounds for nearly five years solid since July 2004, and it has earned international critical acclaim.  The Vancouver Sun was moved to describe it as "spectacle on a grand scale: heart-poundingly exciting and [performed with] gut-busting energy", and the Globe and Mail Toronto simply said "[It's] a breath-taking display: it dazzles".
Chun Yi: The Legend of Kung Fu is at the London Coliseum from 29 July to 16 August, 2009, 2.30pm / 7.30pm.
Address: London Coliseum, St Martin's Lane, London WC2N 4ES
Box office: 0871 911 0200
Tickets: £15 - £60 (Preview £10 - £30)