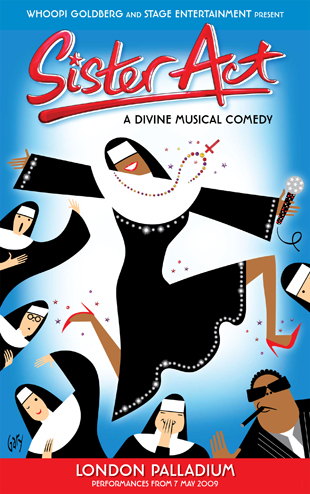 Whoopi Goldberg and Stage Entertainment are delighted to announce that they will produce the Premiere of Sister Act, a divine new musical comedy based on the international hit movie.
When disco diva Deloris Van Cartier witnesses a murder, she is put in protective custody in the one place the cops are sure she won't be found - a convent! Disguised as a nun she quickly finds fans amongst her fellow 'sisters' but makes the wrong impression on the convent's strict Mother Superior. When she turns her attention to the convent's off-key choir, helping the nuns to find their true voices and breathing new life into the rundown neighbourhood, her cover could be blown for good. With the gang giving chase, is time running out for Deloris? Or have they underestimated the power of her new found Sisterhood?
Sister Act The Musical features a score by Alan Menken, eight-time Oscar winner and the genius behind many of the world famous songs from Disney's movies, including The Little Mermaid, Beauty & The Beast, Aladdin and Enchanted, with lyrics from his long time collaborator, Glenn Slater.
Whoopi Goldberg said: "If you are fortunate enough to be a part of something wonderful, I feel it's important to pass the baton. The best way for me to be a part of this new incarnation of Sister Act is to make sure everyone knows it's happening. The stage version of the show is fresh and new and I'm beyond thrilled to be part of it."
Whoopi Goldberg is among the most well-known performers around the world. She shot to international fame with her Oscar-nominated performance in Steven Spielberg's The Color Purple, before embarking on a prolific Hollywood career with films such as Jumpin' Jack Flash, Soapdish, The Lion King, How Stella Got Her Groove Back and, of course, Sister Act and its sequel. She has had success in virtually every area of entertainment, from film and television, to stage and recording, to radio host and best-selling author. She won the Academy Award for Best Supporting Actress for her role in Ghost in 1991 and is one of a very elite group of artists who has also won the Grammy, the Golden Globe, the Emmy and, as Producer of the original Broadway production of Thoroughly Modern Millie in 2002, a Tony Award. She is currently moderator of the award-winning daytime talk show The View in the United States.
Sister Act The Musical will open at the London Palladium, on Tuesday 2 June with previews from 6 May. Currently booking to 13 February 2010, 7.30pm Monday-Saturday, 3.00pm Wednesday and Saturday
Address: The London Palladium, Argyll Street, London W1
Box office: 0844 412 2704
Tickets: £17.50-£60 (previews only, tickets from £17.50-£50)

---
Related Links
www.sisteractthemusical.com
Sister Act The Musical announces casting - ATN News