Royal Court's Rough Cuts project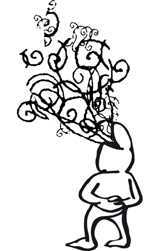 A regular mini-season of experimental readings and works-in-progress – will run in the Royal Court's Jerwood Theatre Upstairs
Rough Cuts will feature works-in-progress by Alia Bano, Mike Bartlett, Michael Bhim and Ridiculusmus. Alongside this will run Article 19 – a series of specially commissioned 10-minute plays by April De Angelis, Juan Mayorga, Anthony Neilson and Winsome Pinnock.
For the Article 19 plays, the Royal Court asked four leading contemporary playwrights to write a 10-minute play in response to Article 19 of the Universal Declaration of Human Rights: "Everyone has the right to freedom of opinion and expression; this right includes freedom to hold opinions without interference and to seek, receive, and impart information and ideas through any media and regardless of frontiers".
Behind The Image by Alia Bano and The Spiral by Michael Bhim were first presented as part of 2008's Rough Cuts season. Since then, both writers have re-examined and re-shaped their plays, to reveal challenging and thought-provoking responses taken from interviews with a diverse group of British Muslims.
Mike Bartlett's Thrown is a work-in-progress about surveillance, intrusion and identity, which has also been further developed since its first showing in last year's Rough Cuts,.
Ridiculusmus will present Goodbye Princess, written and directed by David Woods and Jon Haynes, which sees a bunch of desperate theatre types called in by Mohammed Al Fayed to dramatise the last days of Princess Diana for a courtroom showdown.
Rough Cuts was launched by Dominic Cooke in 2007 to provide a creative and experimental environment for emerging and established artists to develop ideas collaboratively, experimentally and informally. The first full production to come out of the Rough Cuts developmental process – The Girlfriend Experience – opened in the Jerwood Theatre Upstairs at the Royal Court in September 2008.
Wednesday 1 July - 7pm
Article 19 by Winsome Pinnock
Directed by Jeremy Herrin
Ridiculusmus presents
Goodbye Princess
Written and directed by David Woods and Jon Haynes
Cast: Louise Bush, Meredith Davies, Jon Haynes, Pete McCabe, Richard Talbot, Shuna Snow and David Woods
Developed with the support of the National Theatre Studio
Thursday 2 July - 7pm
Article 19 by April De Angelis
Directed by Ramin Gray
Ridiculusmus presents
Goodbye Princess
Written and directed by David Woods and Jon Haynes
Cast: Louise Bush, Meredith Davies, Jon Haynes, Pete McCabe, Richard Talbot, Shuna Snow and David Woods
Developed with the support of the National Theatre Studio
Friday 3 July - 7pm
Article 19 by Anthony Neilson
Directed by Jeremy Herrin
Thrown
Written and directed by Mike Bartlett
Music by Nick Gill
Developed with the support of the Orchard Project
Saturday 4 July - 7pm
Article 19 by Juan Mayorga
Directed by Ramin Gray
Thrown
Written and directed by Mike Bartlett
Music by Nick Gill
Developed with the support of the Orchard Project
Wednesday 8 July - 7pm
The Spiral by Michael Bhim
Directed by Dominic Cooke
Behind the Image by Alia Bano
Directed by Nina Raine
Thursday 9 July - 7pm
Behind the Image by Alia Bano
Directed by Nina Raine
The Spiral by Michael Bhim
Directed by Dominic Cooke
Friday 10 July - 7pm
The Spiral by Michael Bhim
Directed by Dominic Cooke
Behind the Image by Alia Bano
Directed by Nina Raine
The Royal Court's Rough Cuts season takes place from 1 to 10 July 7pm
Address: Jerwood Theatre Upstairs, Royal Court Theatre, Sloane Square, London SW1
Tickets: £7.50
Box office: 020 7565 5000