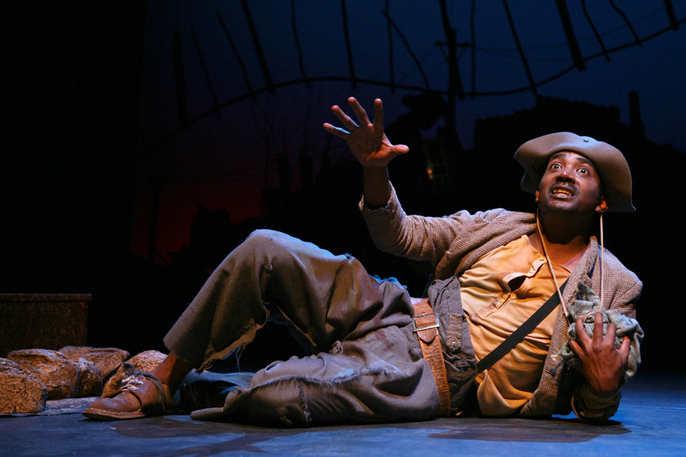 The notorious and infamous Khoisan, Koos Sas was accused of murdering a shopkeeper in Montagu, South African in 1917. In this musical work, Koos Sas is re-imagined as a rebellious hero – a thorn in the side of the farmers and the state. Shot as an outlaw, he was the last of what the authorities considered to be "bushmen robbers" of the previous century. Koos Sas is a love story played out against the background of racism and subjugation, a celebration or pre-industrial innocence, from the award winning company that brought you Kat and the Kings and Spice Drum Beat: Ghoema.
The South African cast, who will reprise their roles at the Tricycle, are Loukmaan Adams and Jody Abrahams who were first seen at the Tricycle Theatre in Kat and the Kings, and Natalie Cervati, Nicholas Ellenbogen and Robert Koen.
Koos Sas: Last Bushman of Montagu is written, directed and composed by David Kramer with additional text by Jody Abrahams and Gaerin Hauptfleisch. Koos Sas will be performed in Afrikaans with English surtitles.
Koos Sas is at the Tricycle Theatre from 14 July to 1 August.

Address:
Tricycle Theatre, 269 Kilburn High Road, London NW6 7JR
Tickets:
Monday evenings and midweek mats £10; Tuesday – Friday evenings and Saturday mats £15; Saturday evenings £20
Box office:
020 7328 1000