Baxter Theatre's Karoo Moose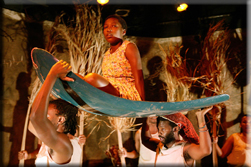 The multi award-winning Karoo Moose is written and directed by Lara Foot Newton with set  and lighting designs by Patrick Curtis choreography by Mdu Kweyama and music by Bongile Mantsai.  In Johannesberg the production recently won eight Naledi Theatre Awards including Best New South African Play and Best Production of a Straight Play.
In a remote and impoverished village in the Karoo, South African, a young girl, Thozama, struggles to survive.  A violent and terrifying incident and a chance encounter with an escaped moose change her life forever.  A story of pain, redemption and hope, combining traditional African story telling and magical realism.
The South African cast, who will reprise their roles at the Tricycle, are Zoleka Helesi, Mdu Kweyama, Bongile Mantsai, Thami Mbongo, Chuma Sopotela and Mfundo Tshazibane.
Karoo Moose is at the Tricycle Theatre from 16 June to 11 July.
Address: Tricycle Theatre, 269 Kilburn High Road, London NW6 7JR
Tickets: Monday evenings and midweek mats £10; Tuesday – Friday evenings and Saturday mats £15; Saturday evenings £20
Box office: 020 7328 1000