Ballet Black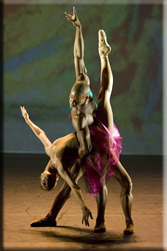 Don't miss Ballet Black's biggest performance to date at the Hackney Empire which seats 1,500 people - the biggest audience they have performed to.
They will be presenting a selection of five of our their favourite ballets. Three of their recent Linbury commissions top the bill: Pendulum, the raw and dynamic pas de deux from Martin Lawrance, Kinderszenen, Antonia Franceschi's salute to Schumann and Depouillement, Will Tuckett's musically driven pure dance piece. We've also added two classic Ballet Black pieces to the programme: Umdlalo kaSisi (2007), the ballet by Zimbabwean-born choreographer Bawren Tavaziva, which melds the classical ballet aesthetic to the spiritual rapture of his African choreography, and Somente (2008), the fiery and passionate pas de deux by Royal Ballet dancer Liam Scarlett.
The majority of the money raised through ticket sales will go towards funding Ballet Black's 2010 season, so every ticket counts.
Ballet Black will be at the Hackney Empire on July 2, 2009 at 7.30pm
Address: Hackney Empire, 291 Mare Street, London E8
Tickets: 0208 985 2424 or online