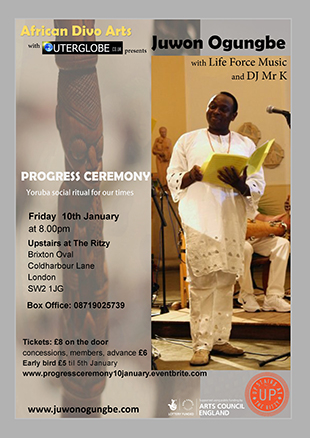 Friday 10th January 2014 African Divo Arts with Outerglobe.co.uk presents Juwon Ogungbe and Life Force Music in Progress Ceremony - Upstairs at The Ritzy, Brixton Oval, Coldharbour Lane, London SW2 1JG start 8pm. Tickets are £8 / £6 concessions at the door; £6 advance early bird and can be purchased via www.progressceremony10january.eventbrite.com (Print off your ticket and bring it with you) and Box Office 0871 902 5739.
Progress Ritual is a multimedia contemporary Yoruba ritual for our times - with music created by the brilliant internationally celebrated and multifaceted composer/performer/singer Juwon Ogungbe.One of the stars of UK African music.
Featuring the infectious 'Afropopera where Jazz meets Funk' styled music of Juwon Ogungbe's Life Force Music band and projected images by Derek Nisbet of Coventry's acclaimed Talking Birds, Progress Ceremony is a prayer for beneficial change and is supported by Arts Council of England funding. Bring in New Year positivity with Progress Ceremony! Essential Event!
Juwon Ogungbe's album ' Life Force Music ' "connects the worlds of pop, soul, classical and African music in a fluid way" NY Times - and will be on sale at this event. Juwon Ogungbe's Youtube link is www.youtube.com/juwon5jimvon and his website is www.juwonogungbe.com.
Info: The main flyer image photo is courtesy of Nadjib Le Fleurier. More details