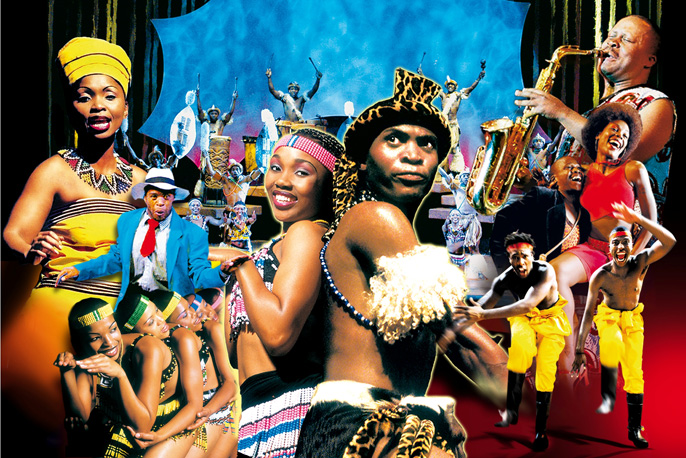 UMOJA is a musical celebration of South African song and dance. Originally created by Todd Twala and Thembi Nyandeni as a way of a reminding a new generation of South Africans of their heritage, UMOJA, meaning 'togetherness' in Zulu, has won critical plaudits and collected multiple awards since its premiere in 2000. UMOJA returns to London for a run at the Peacock Theatre from 31 January to 19 February 2012.

From the potent rhythms of tribal music to the intricate steps of gumboot dancing, the jazz of Sophiatown, the joy of gospel and the pounding energy of contemporary kwaito, UMOJA unites 30 singers, dancers, drummers, marimba players and musicians, who represent the best of South Africa's young performers, many of whom come from severely disadvantaged township backgrounds.

Todd Twala and Thembi Nyandeni met at the Vuka Îbambe Higher Primary School in Soweto, South Africa. They lost touch after school but both pursued a career in entertainment as singers and dancers. Their paths crossed again in 1978 when the shows they were touring in, Meropa and Ipi Ntombi, were both in the West End.

When Meropa closed, Todd Twala joined the cast of Ipi Ntombi, and the friends toured the world with the show, from London to Broadway, across the United States, and as far afield as Australia and New Zealand. During their breaks they choreographed their own dance pieces, which became the building blocks of UMOJA.

Twala and Nyandeni retuned to South Africa in 1982 and formed Pals of Africa, a two woman show. Whenever they performed they put the money they made back into the show, making costumes and recruiting more members. The company grew and began to perform internationally, and as they developed their show was renamed first BAOBAB, and then UMOJA.

UMOJA opened at the Victory Theatre, Johannesburg, in 2000. The show has become an international hit, with two popular runs in the West End and tours to over 30 countries around the globe. It has been seen by over four million people worldwide.
---
Info: Peacock Theatre, Portugal Street, Holborn, London WC2 | Tue - Sun at 7.30pm, Sat & Sun mats at 2.30pm | www.sadlerswells.com