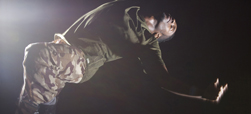 The worst part is always now.
The old men say the worst part is always now.
They say every part is the worst part.
But what do we care for "they"?
We have no use anymore for they or he or she or you or I.
For now, it is only we. Now, in the worst part, in the very worst part, it is only us.

Combining poetic movement, puppetry and text, Ovalhouse's 33% Company return with another evocative piece as part of National Theatre Connections. The Grandfathers captures the isolation and comradeship of teenage conscripts in a continuing and futile war. The Company's previous work includes Arinze Kene's critically-acclaimed Suffocation which sold out during 33% London 2011.

Rory Mullarkey has previously written for The Royal Court, Headlong and Paines Plough. He is currently the 2011 Pearson Writer in Residence at the Royal Exchange Theatre, Manchester and is under commission to Headlong.



---
Info: 7.45pm | Ovalhouse Theatre, 52-54 Kennington Oval, London SE11 5SW | www.ovalhouse.com