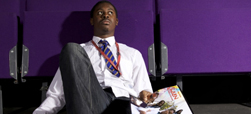 Today is the day when "Year 11 dutty sick yute drama group" present their chosen end of year production: "SKEEN: A good girl and boy gone gangsta & sket story."
It's the tech rehearsal. The director is pumped, the actors are not. The writer is on her way…all hell is about to break loose.

"…Every yout in this play talks like they just bathed in weed fresh from yardie world… every girl in this play is some dutty hoe who gets mashed more times than sweet potato… Every man have to treat their girl like they're lower than cow doo-doo… is this the truth? This is what living in London today's all about?" 33% presents SKEEN! the debut play from Tristan Fynn-Aiduenu. A play that challenges how youth are represented and how we choose to represent ourselves.

Directed by Roy Alexander Weise.
---
Info: 7.45pm | Ovalhouse Theatre, 52-54 Kennington Oval, London SE11 5SW | www.ovalhouse.com