Wig Out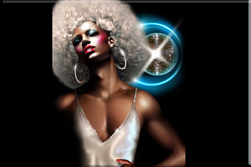 "In this gossamer- laced reality there is never a moment to be without your face, to not be together. One false move and you'll get chopped. One night can leave you legendary or a subsidiary." Enter the legendary House of Light, a hyper-glamorous, uber-competitive drag queen refuge where a daughter who was once a son, can find a family.
While the House are primping and preening for a catwalk showdown with the other houses, drag queen Nina is wooing the delectable Eric as Wilson, a de-camped, make-up free 'straight' gay man. How can Nina/Wilson strut the thorny divide between opposite genders and differing worlds? With sassy music, killer costumes and performed in a club cabaret setting, Wig Out! brings to glorious, vivid life, a riotous, defiant drag queen sub-culture.
Cast members include Kate Gillespie, Kevin Harvey, Alex Lanipekun, Leon Lopez, Holly Quin-Ankrah, Danny Sapani, Craig Stein, Nathan Stewart- Jarrett and Jessika Williams Directed by Dominic Cooke Written by Tarell Alvin McCraney
Tickets £25.00, £18.00, £12.00 Ringside Seating £25.00 per person (no concs) Mondays all seats £10.00 Concessions £5.00 off the top two prices. (avail. in advance for all perfs until 29 Nov and all matinees. For all other perfs, avail. on a standby basis).
25 and under 10 seats in each price band per performance only £6.00 Schools and HE Groups 8+ 50% off top two prices (avail. Tue-Fri and mats) Groups 6+ £5.00 off top price. All discounts are subject to availability and ID maybe required.
To book concessions please call the box office on 020 7565 5000. Sat mats 3.30pm (from 29 Nov) | 20 November 2008 – 10 January 2009, 7.30pm | Royal Court, Sloane Square, London SW1 | www.royalcourttheatre.com
Wig Out! Meal Deal The fabulous Royal Court Cafe will be transformed into a cabaret-style restaurant (look out for some post-show entertainment acts) and we've reserved some of the much-sought-after dinner tables specially for MEAL DEAL bookers. For £45 you will receive a top-price ticket to Wig Out! and a two course meal in the Royal Court restaurant, with a table reservation made at the same time as you book your ticket. To take advantage of this special offer, simply telephone the Box Office on 0207 565 5000 and quote "Wig Out! Meal Deal"!