LEMN SISSAY'S WHY I DON'T HATE WHITE PEOPLE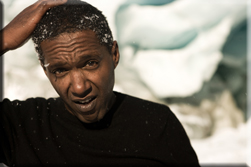 He didn't know a black person until he was eighteen.  It wasn't his fault. They just thought it was better that way. Playwright, performer and broadcaster Lemn Sissay – the child of an unlikely liaison between Wigan Social Services, Ethiopia and Eritrea – spent most of his adult life searching for his family.   This extraordinary journey was the inspiration for his award-winning play Something Dark.
Following a familiar theme, Lemn continues searching – not for family but for something more evasive: race. Fusing the lyrical and polemical, Why I Don't Hate White People is a whirlwind tour of race as seen from one man's unique and intensely personal perspective.
Exploring this contentious area with humour and originality, Lemn depicts some unexpected race-related situations, from an anti-slavery workshop where he chains up his students and leaves them in the classroom, to the launch of a new Richard Pryor Centre for Equality, which implodes at the opening ceremony.  The result of Lemn's journey into race is his discovery of the many reasons why he doesn't, in fact, hate white people.
Lemn Sissay is artist-in-residence at the Southbank Centre. His work includes publications Tender Fingers in a Clenched Fist, Rebel Without Applause and the recently released Listener.  His include plays Chaos By Design, Storm, and Something Dark.
Lemn has recently returned from an expedition to the Antarctic with the charity Cape Farewell to experience the effects of climate change in the region.  Artistically and emotionally moved by the experience, Lemn has fed some of the creative ideas inspired by the trip into Why I Don't Hate White People.
Written and performed by Lemn Sissay, directed by John E McGrath.
Why I Don't Hate White People runs from 22 January – 14 February, 8pm (Mon – Sat) at the Lyric, Hammersmith
Address: Lyric Square, King Street, London W6 0QL
Box office: 0871 22 117 22
Tickets: £12, concessions £9
www.lyric.co.uk