Up Against the Wall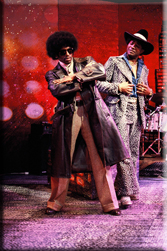 A vibrant comedy musical with over twenty great soul and funk songs from the 70s. The New Year at the Octagon Theatre starts with Up Against the Wall, a co-production with London-based theatre company Nitro. Following the success of The Wedding Dance in 2005, this production promises you a wild evening of great soul and funk songs performed entirely live by actor/singers and a five-piece band.
Henry is the leader of The Emperors of Funk, a band full of afros, flares and medallions, performing the greatest soul and funk of the 70s from Shaft to Superfly; Sex Machine to Carwash; Across 110th Street and straight on to Boogie Wonderland. A new girl, Gloria, joins the band as a backing singer giving the band a new lease of life to perform at the legendary Funkfest! This is a dream come true for the band but will the band triumph or will their dreams come crashing down?
Director Paulette Randall, one of the UK's leading female theatre directors and a former artistic director of the Talawa Theatre Company, fresh from her triumph with Radio Golf at the Tricycle Theatre, London, directs this 70s musical extravaganza.
Cast Donovan Blackwood plays the band leader Henry with Ann Marie Roberts is Gloria, Shelley Williams, Danielle Henry and AJ Lewis complete the cast. Band members include Cheryl Alleyne, Darren Benjamin, Jonathan Idiagbonya, Joseph Roberts and Barry Williams.
Up Against the Wall runs from 29 January to 28 February: Monday to Saturday at 7.30pm at the Octagon Theatre, Bolton
Address: Octagon Theatre, Howell Croft South, Bolton. BL1 1SB
Box office: 01204 520661, or at www.octagonbolton.co.uk
Tickets: from £9