Mother Goose: celebrating Hackney Empire's 10th Anniversary pantomime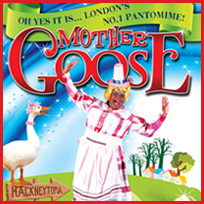 Once upon a time there lived a kindly storyteller called Mother Goose. She lived in Hackneytopia with her son Billy and all the other fairytale folk. One fateful day two magical sisters, Charity (the good one) and Vanity (the evil one) decide to find out who is the most powerful witch. Charity sends poor Mother Goose a magical golden-egg-laying goose called Princess Priscilla. Suddenly Mother Goose is richer than she ever thought possible, her home is safe and her family is happy. But is this enough? What happens when all you wish for is offered to you on a plate? Can Vanity tempt her to turn against everyone she loves to gain her hearts desire? Will she give away the prized goose she has grown to love… for beauty?
Come along and find out and along the way meet the gorgeous Priscilla, laugh at the antics of Baron Bonkers and Frightening Freda, visit the magic pool in the heart of an enchanted forest where skeletons dance and goblins sing and most important of all – join in the fun, cheering and booing all the way. Packed with spectacle, mayhem, comedy and brilliant music, Hackney Empire's tenth anniversary production is London's must-see pantomime this Christmas.
Mother Goose is played by Hackney Empire panto regular Clive Rowe. He won an Olivier Award for his role as Nicely Nicely Johnson in the National Theatre's production of Guys and Dolls and recently received rave reviews for his role as Feste in Twelfth Night at the Open Air Theatre, Regent's Park.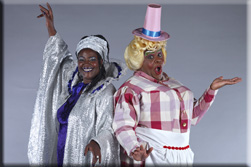 Clive is joined by actress and musical theatre star Sharon D Clarke who is a Holby City regular and was recently on the panel of judges in Last Choir Standing. Her musical theatre credits include The Lion King, We Will Rock You, Guys and Dolls and Chicago.
The full cast includes Clive Rowe, Sharon D Clarke, Tameka Empson, Kat B, Anthony Whittle, Susie McKenna, Matt Dempsey, Carl Parris, Abigail Rosser and Alex Ross.Mother Goose is produced by Simon Thomsett, written and directed by Hackney Empire Associate Director, Susie McKenna, composed and musically directed by Stephen Edis, and choreographed by Carl Parris, with set and costume designs by Lotte Colette, lighting design by David W Kidd, sound design by Paul Gavin and creatures designed by Scott Brooker.
Box Office 020 8985 2424 www.hackneyempire.co.uk Tickets £9 - £21.50 (+ concs and group discounts) Hackney Empire, 291 Mare Street, London, E8 1EJ Until 10 January, 2009