Apples and Snakes in Soho: Poetry, patois and poignancy ft. Valerie Boom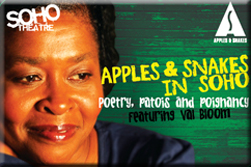 Poetry's patois queen Valerie Bloom will be taking us on a verbal voyage through her hard-hitting, poignant, exuberant back-catalogue. A cornerstone of British Caribbean poetry and recognised as such on last year's Honours List, Val is also respected as an educator, broadcaster and author. Her most recent novel for teenagers, The Tribe, was published by Macmillan in 2007. Ensuring extra words-for-money, there's Kayo Chingonyi, the man with the smoothest voice in poetry (and his writing's not bad either).
Kayo weighs each vowel and syllable as if it's a thing of beauty which it is, even when the words themselves are breaking your heart. He's guaranteed, in his own words, to take you to the crest of each sonic wave. Meanwhile, straight outta the south-west, comes Rose Cook. A legend in Devon, where radio stations, theatres and cathedral vaults have all rung with the sound of her poetry, Rose is a firm believer in the soothing power of the spoken word. Tonight she storms the capital (in a soothing way).
And finally, we have newcomer Jahnell: with rhythms that seem to echo the industrial skylines of his native North, and tales of what it means to be of mixed heritage in the early 21st century, he's been bowling audiences over at recent shows. Get yourselves here, and see what the fuss is about. Online poetry chronicler Naomi Woddis puts down the notebook and takes up the mic to steer us through tonight's wordy wonders. Another prime package from Apples & Snakes the UK's 24-hour poetry people.
The Soho Theatre. 21 Dean Street, London W1D 3NE. Tickets £8/£6. Booking: 02074780100 / www.sohotheatre.com and for info: www.applesandsnakes.org 28 Jan, 8pm