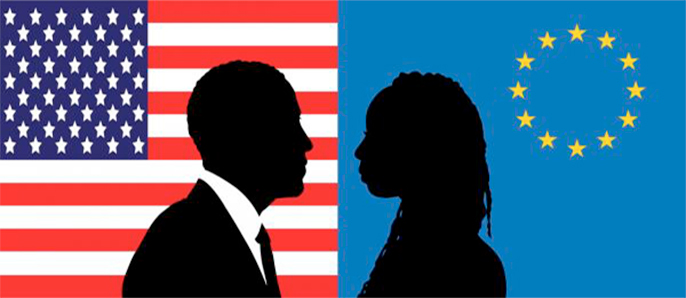 Obama & Me: A One Woman Show and Work-in-Progress Touring in 2017
"I am a cog in the wheel of free movement.
I am my ancestors', my contemporaries',
and my descendants' wildest dreams"
While Barack Obama is fulfilling his American Dream as the first Black president of the United States, Sylvia Arthur, a Black Brit, is in Brussels in pursuit of the European version.
Working at the political heart of Europe, tasked with promoting Freedom of Movement, she zigzags the continent proselytising the benefits of a borderless Union.]
But as the President faces resistance to his agenda, so does she as nativism, authoritarianism, misogyny, and racism sweep through Europe, and the world, and dreams begin to crumble.
Interweaving music, video, and images with spoken word, this work-in-progress takes on the big issues of Brexit, Trump, US and EU race relations, and the global refugee crisis in a powerful, compelling narrative that explores the meaning of identity, politics, power, and belonging in the post post-racial 21st century.
Written by Sylvia Arthur
Brussels, Belgium: 17 Feb, Muntpunt
Obama & Me will be at Muntpunt as part of the Recognition festival. There'll also be a post-show discussion and Q&A with Dorrie Wilson. RSVP
Brighton Fringe, UK: 30-31 May, 1 Jun, The Warren: Theatre Box
Obama & Me will run for 3 nights at this year's Brighton Fringe, England's largest arts festival and one of the largest fringe festivals in the world. Tickets available soon.
Camden Fringe, London, UK: 5 Aug, Cockpit Theatre
The Camden Fringe is a performing arts festival, established in 2006, which takes place in Camden during August. ​ Tickets available soon.
Edinburgh Fringe, Scotland, UK: 4-28 Aug [Dates TBC]
The Edinburgh Festival Fringe is the largest arts festival in the world and takes place every August for three weeks in Edinburgh, Scotland's capital city.​ Tickets available soon.