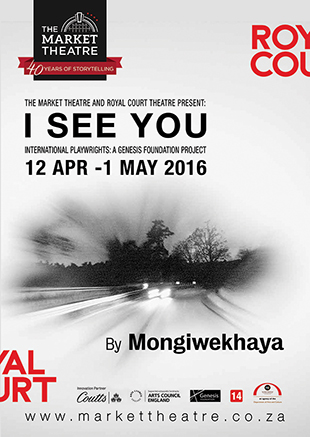 I SEE YOU (English) NGIYAKUBONA (Zulu) EK SIEN JOU (Afrikaans) NDIYAKUBONA (Xhosa)
"I don't need your sorries white boy, yes. You heard right. You know white people think we are the same? We both look black. But only one of us is black"
Post-Apartheid South Africa, after dark.
Ben meets Skinn for a night out. But the party is interrupted by the police. Ben, a young student who doesn't know his own history, is accused of a crime he didn't commit. And Officer Buthelezi, a former freedom fighter, can't let it go.
Based on a real encounter.
"Speak to me in your mother-tongue and I will let you go."
Noma Dumezweni (read interview) makes her directorial debut. After its run in the Jerwood Theatre Upstairs I See You will play at the Market Theatre Johannesburg.
International Playwrights: A Genesis Foundation Project
Info: I See You is at The Market Theatre, Cnr Bree and Miriam Makeba, Johannesburg 2001 from 12 April until 1 May 2016 | Book tickets
Related links
Noma Dumezweni - A Human Being Died That Night, interview