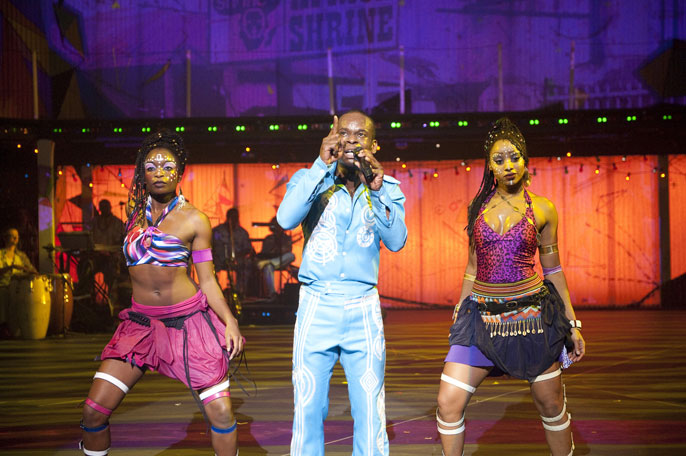 FELA! Returns to Broadway this Summer - 4-weeks Only!
Producers Shawn 'Jay-Z' Carter, Will and Jada Pinkett Smith, Ruth and Stephen Hendel, Ahmir 'Questlove' Thompson and The National Theatre of Great Britain announces the return of the critically acclaimed, award-winning production of Fela!, currently on a multi-city world tour, for a limited run of 32 performances only at the Al Hirschfeld Theatre (302 West 45th Street).

Olivier and Tony Award-nominated actor Sahr Ngaujah leads the cast of Fela! [at certain performances, the title role will be played by Adesola Osakalumi and Duain Martyn].

Sahr is joined by Melanie Marshall and Paulette Ivory, the two stellar female stars ofthe Olivier-nominated National Theatre of Great Britain production. This touring production is a once in a lifetime experience, a glorious amalgam of the original casts of both Broadway and London's Royal National Theatre.

Exploring the extravagant world of Afrobeat legend Fela Kuti, this provocative hybrid of dance, theatre, music, biography and a party like no-other is directed and choreographed by Tony® Award-winner Bill T. Jones, with a book by Jim Lewis and Bill T. Jones. The world renowned Antibalas and other members of the NYC Afrobeat community, under the direction of Aaron Johnson, again perform Kuti's rousing music live onstage. Recipient of three 2010 Tony Awards (Best Choreography, Best Costumes, Best Sound Design), Fela!, featuring the music and lyrics by Fela Kuti, was conceived by Bill T. Jones, Jim Lewis and Stephen Hendel, features additional lyrics by Jim Lewis, and additional music by Aaron Johnson and Jordan McLean.

The musical is inspired by the authorized biography Fela: This Bitch of a Life by Carlos Moore.
---
Related Links
Afridiziak Theatre News interview with Sahr Ngaujah
Afridiziak Theatre News interview with Paulette Ivory
Afridiziak Theatre News review of Fela! on Broadway
Afridiziak Theatre News review of Fela! National Theatre
Afridiziak Theatre News review of Fela! Sadler's Wells
Afridiziak Theatre News interview with Wole Soyinka