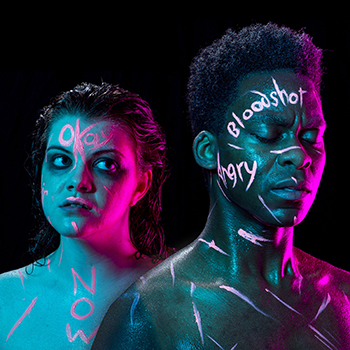 A spaceship hurtles towards a black hole. A book-loving couple flee a burning city. A bloodshot eye conjures up kisses and wild animals. The world premiere of Philip Ridley's Angry is a menacing, magical, and darkly comedic collection of stories that vibrate with the lingering unease of our times.
Georgie Henley (The Chronicles of Narnia) will be joined by Olivier Award nominee Tyrone Huntley (Jesus Christ Superstar, Dreamgirls, Book of Mormon), to perform the series of six gender-neutral monologues on subjects as diverse as refugees, millennial anger, and interstellar travel.
Philip wrote the monologues to be gender-neutral, and Angry explores the difference between the same experience from a man and a women's perspective. Both actors will learn all six monologues and both will perform every night, but who performs each monologue will alternate from night to night.
There are two versions of the show which alternate: "She follows Him" in which monologues 2, 4, and 6 are performed by the "Her" (and the others by "Him") and "He follows Her" in which monologues 2, 4, and 6 are performed by "Him."
The schedule is:
She follows him: Tuesday Matinee, Wednesday, Friday, Saturday Evening.
He follows her: Monday, Tuesday Evening, Thursday, Saturday Matinee.
Widely considered to be one of the greatest living British writers, Philip Ridley's previous plays include The Fastest Clock in the Universe, Radiant Vermin, The Pitchfork Disney, Tender Napalm, Dark Vanilla Jungle, and Mercury Fur, as well as the screenplay for the 1990 film The Krays.
Georgie Henley shot to worldwide fame aged eight when she was cast as the lead, Lucy Pevensie, in the Oscar-winning The Chronicles of Narnia series. She took time out of acting to study English at Cambridge before returning to star opposite Ella Purnell in indie film "Access All Areas". Angry is her professional stage debut.
Tyrone Huntley was nominated for an Olivier Award and a What's On Stage Award in 2017 for his performance as Judas in Jesus Christ Superstar, and won the Evening Standard's Emerging Talent Award the year before. He was in the original London cast of Book of Mormon, Dreamgirls, and Memphis. He will join Emma Hatton (Wicked, Evita) at the London Palladium as a special guest for her hotly-anticipated first solo show, and has been announced as a headline act at the What's on Stage Awards Concert along side Janie Dee (Follies) and Alice Fearn (Wicked).
Director Max Lindsay makes his London debut with Angry, after having been a resident director at Nuffield Southampton Theatres.
Tramp return to Southwark Playhouse after the success of their Offie-nominated immersive version of Confessional by Tennessee Williams.
Read interview with Tyrone Huntley
Info: Angry is at Southwark Playhouse from 14 Feb to 10 Mar 2018 / book tickets