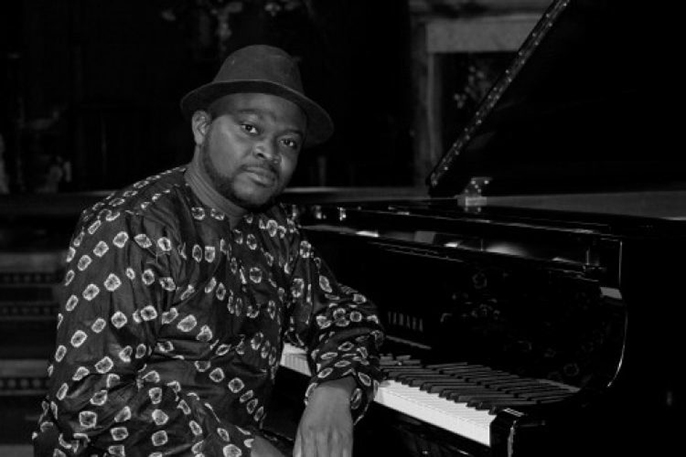 The Nigerian jazz trio of pianist NIRAN OBASA, bassist DARLINGTON JOSEPH and drummer STANLEY OHIOS creates original music that takes Nigerian folklore as the starting point of improvisation that is breathtaking in its scope and originality. They merge the rhythms of Fela Kuti and the harmony of Herbie Hancock to create exciting music that moves contemporary African jazz forward into a new realm.
Read our review of Niran Obasa at the Southbank Centre
NIRAN OBASA is a pianist of grace and invention. He studied at Trinity College London. A key session player in Nigeria where he recorded many CDs with a host of bandleaders.
Currently he is the musical director of The Yoruba Women Choir and a key member of Femi and The InRhythms where he plays sythns and keyboards. The Niran Obasa Trio allows him to showcase his original composition skills and formidable techniques.
DARLINGTON JOSEPH is a virtuoso electric bassist who has worked and shared the stage with the likes of Femi Kuti, Erykah Badu, Roy Hargrove, Angelique Kidjo, Jane's Addiction and more.
 A superb bass player who is blessed with techniques and touch. His big fat sounds make him the ideal partner in the Niran Obasa Trio that allows him to stretch out and play solos within the rhythms being created by Stanley Ohios and the harmonic inventions of Niran Obasa.
STANLEY OHIOS built his name playing in Nigerian churches and with the likes of Wanda Baloyi, The Dawnay Band, Winnie Kumalo, Kunle Ayo, Femi Ogunkoya, The Steve Rodes Orchestra, Hope Davids etc.
Emerald - Niran Obasa @ The Vortex Jazz Club
The Niran Obasa Trio allows for a greater responsibility - playing rhythms with a simpler and tight beat (groove). He is not just a drummer but a musician like Jack DeJohnette, Billy Cobham, Tony Allen and Dave Weckl that creates grooves behind complex arrangements.
This trio concert sees him featuring music from the solo CD "CHILDREN OF CHIBOK" and "4th Dimension".
Info: Niran Obasa Trio will be at the Vortex Jazz Club 11 Gillett Square, London, N16 8AZ on Wednesday 15 Feb 2017 / Book tickets