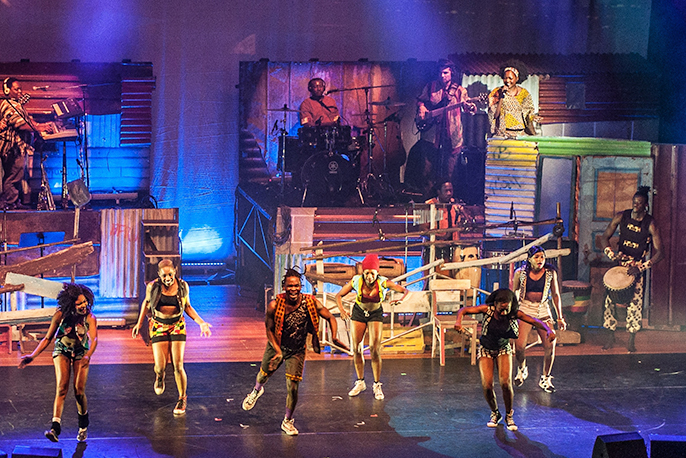 Sensational circus company Circus of the Senses visits London in 2017 to take audiences on a thrilling journey of discovery into Africa's colourful world with Mother Africa: Khayelitsha – My Home. Featuring acrobats, dancers, singers and musicians from seven African nations, the group blends spectacular circus feats, colourful costumes, glorious singing, infectious rhythms and jaw-dropping dance to bring the pulse of daily life in the South African township of Khayelitsha to the West End.
Two million people call Khayelitsha home, making it the biggest township in South Africa. Despite its poverty and overcrowding, Khayelitsha is a place that is full of hope, vibrant, busy, and buzzing with rhythm and energy. The hustle and bustle in Khayelitsha is the central theme of the show, uniting performances of dance, circus acts, singing and a variety of African music.
Mother Africa has been seen by over one million spectators on its tours of Europe, Australia, Africa, the Middle East and New Zealand over the last six years, and made its UK debut at the Edinburgh Fringe in August 2015. It arrives fresh from its second Broadway run at the New Victory Theatre, New York, having been nominated for 'Best Show' in the Drama Desk Awards when it debuted there in 2013, and will be taking up its third residency at Dolly Parton's Dollywood theme park in the USA at the end of its visit to The Peacock.
All of the artists in the company trained at the Circus College established in Dar-es-Saalam, Tanzania, in 2005 by Mother Africa director Winston Ruddle. The skills the college offers are taught for free and the most talented students are given the chance to tour the world with Mother Africa, which, for most of them, is a life-changing opportunity.
Info: Mother Africa, Khayelitsha – My Home is at The Peacock Theatre from 21 Feb - 11 March 2017 / Book tickets