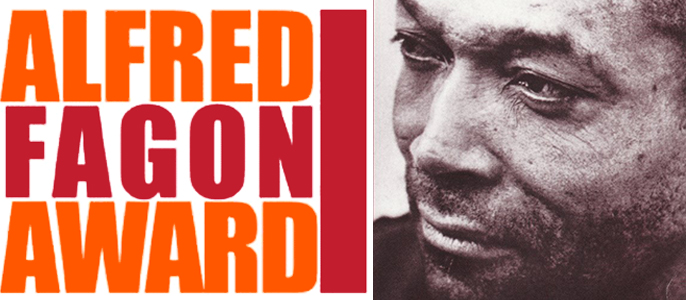 The Alfred Fagon Award launches The Alfred Fagon Series a series of events to raise funds to support the Alfred Fagon Award, an annual playwriting award for new plays. The Alfred Fagon Series has two alternating quarterly events I write, I live and The Debate.
I write, I live features conversations with contemporary Black British Playwrights while The Debate is a challenging, controversial and lively radical: a forum for new ideas. Theatre practitioners, cultural commentators and critics debate topical issues with the UK theatre industry.
The events are produced in association with Bush Theatre.
I write, I live debuts at Bush Theatre on Monday 23 February 2015 with Diana Nneka Atuona discussing her Royal Court theatre sold-out play Liberian Girl with journalist and playwright Juliet Gilkes Romero.
Liberian Girl is Diana Nneka Atuona debut play and has received a staged presentation when it ws was performed in June 2014 at the Summit to end Sexual Violence during Conflict. The summit was hosted by William Hague MP and Special Envoy to the UN, Angelina Jolie. Liberian Girl is currently playing at the Royal Court (7th - 31st January) then transfers to the CLF Art Café at the Bussey Building in Peckham and the Bernie Grant Arts Centre in Tottenham.
Juliet Gilkes is an award-winning playwright and journalist. Her play Upper Cut is currently playing at Southwark Playhouse.
I write, I live is at Bush Theatre on Monday 23 February at 7.30pm. Tickets are £7/£5 concessions.
The Alfred Fagon Award is supported by The Peggy Ramsay Foundation.
Info: For more information about The Alfred Fagon Award, visit www.alfredfagonaward.co.uk. For more information about the events and the Alfred Fagon Award contact Creative Producer Pauline Walker | 07896 413 575 | info@alfredfagonaward.co.uk