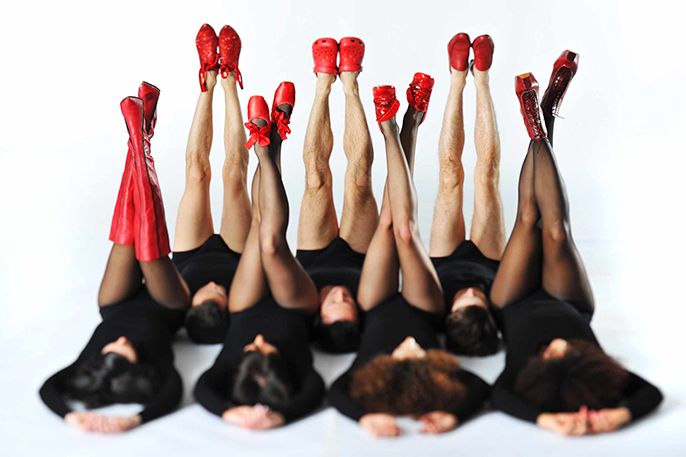 After the smash-hit world premiere at Sadler's Wells, Richard Thomas and Stephen Mear's fabulously original new musical, Shoes, transfers to the West End's Peacock Theatre for a limited eight-week run from Tuesday 8 February – Sunday 3 April 2011.
A celebration of one of the greatest passions of the modern age, this latest Sadler's Wells Production is from the pen of Richard Thomas (Jerry Springer - The Opera and Anna Nicole) and the feet of top showbiz choreographer Stephen Mear (Sweet Charity, Mary Poppins and Betty Blue Eyes).
Shoes takes a wickedly irreverent and affectionate look at the special power this item of clothing holds over many a shoe-addict. The show features over 250 pairs of shoes, with designers and brands involved in and supporting the show to date including Terry de Havilland, Tracey Neuls, Georgina Goodman, Irregular Choice, Manolo Blahnik, Beatrix Ong, Rob Goodwin, Melissa Plastic Dreams, LK Bennett, Birkenstock, Nike, Finsk, Joseph Azagury, Oliver Sweeney, Salvatore Ferragamo, Rupert Sanderson, Christian Louboutin and Alexander McQueen.
Shoes features a cast of 12 of the West End's best dancers, four singers and a live band. Alongside Mear, Sadler's Wells has invited leading artists Sidi Larbi Cherkaoui, Aletta Collins, Kate Prince and Mark Smith to help create the numbers for the show. Song titles from Shoes include; Health And Safety, The Psychology of Purchase in the Temple of Retail, Desire: The Brand, Imelda Argues With The Nation and Sneaker Addict.
Info: Shoes the Musical | Time: 7.30pm | Address: Peacock Theatre, Portugal Street, London WC2A 2HT | www.peacock-theatre.com