The Shawshank Redemption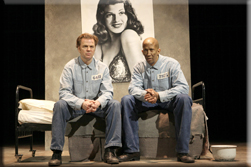 This new play by Owen O'Neill and Dave Johns is based on the 1982 Stephen King novella 'Rita Hayworth and Shawshank Redemption'. The cast of 20 is led by Kevin Anderson and Reg E Cathey. Other cast include Geoffrey Hutchings, Mitchell Mullen, Joe Hanley, Diarmuid Noyes, Shane Attwooll, Geff Francis.  It is directed by Peter Sheridan, with design by Ferdia Murphy, sound by Denis Clohessy and lighting by Kevin Treacy.
Andy Dufresne is convicted of murdering his wife and her lover and sent to the notorious Shawshank Prison to serve two life sentences.  Stripped of his life, family and freedom, Andy is forced to endure a spirit-crushing routine.  But with his quiet strength and inner courage there is one thing that Andy never loses - hope.
This moving story of courage, friendship and hope inspired the 1994 Award winning film. Stephen King's work has been translated into 33 languages.
The Shawshank Redemption is at the Wyndham's Theatre from 4 September until 14 February, 2010.
Address: Wyndham's Theatre, Charing Cross Road, WC2H 0DA
Box Office:  0844 482 5125/ 5120 Press perf Sun 13 Sept 4.00pm
Perfs: Tue – Sat 7.30pm Mats: Thu + Sat 3pm: Sun mat 4pm Running Time 2 hrs 20 mins Age 15 +