These Four Streets
By Naylah Ahmed, Sonali Bhattacharyya, Jennifer Farmer, Lorna French, Amber Lone and Cheryl Akila Payne Directed by Gwenda Hughes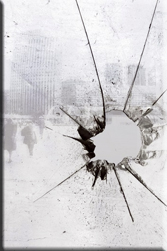 In October 2005, violent disturbances in the Lozells area of Birmingham led to two deaths, serious damage and riot police on the streets of Britain's second city. The events were sparked by rumours, fanned by a local pirate radio station, of the gang rape of a young Jamaican girl by a group of Asian men, but came after simmering tensions between communities in the area. The events form the inspiration for a new play commissioned by Birmingham Repertory Theatre.  These Four Streets tells the fictionalised story of over 30 characters caught in the momentum of unfolding events.
A collaboration between six young female writers, it was inspired by their own meetings and interviews with dozens of local people who were connected to or affected by the Lozells disturbances.
Naseem is the proud new owner of the African Queen Beauty Salon. Determined to make a success of the business, she delays locking up her shop one night for a final appointment, but the customer - an unruly teenager - wants more from Naseem than a haircut.
In the offices of Tabs Cabs, radio operator Grace is one of the first to hear about the violence spreading through the neighbourhood. Alone in the taxi firm's office, behind a door that doesn't lock, Grace just wants to remain unnoticed until things calm down. Then a man walks in and demands a hammer.
The cast includes, Matthew-James Brown, Lorna Laidlaw, Janice McKenzie, Inam Mirza, Zita Sattar and Elexi Walker.
These Four Streets is on 12 - 28 Feb at the Birmingham Repertory Theatre, 7.00pm Mon to Sat with matinees at 1.30pm on Sat 21, Tue 24, Thu 26 and Fri 27 February.
Address: Broad Street, Birmingham B1 2EP
Box office: 0121 236 4455
Tickets: £10 with concessions available
www.birmingham-rep.co.uk